Beef Peanut Meatballs with Avocado Dressing
Lime zest, peanuts and amaranth put an unusual twist on these crunchy meatballs. Canola oil is smart choice for frying because of its high heat tolerance.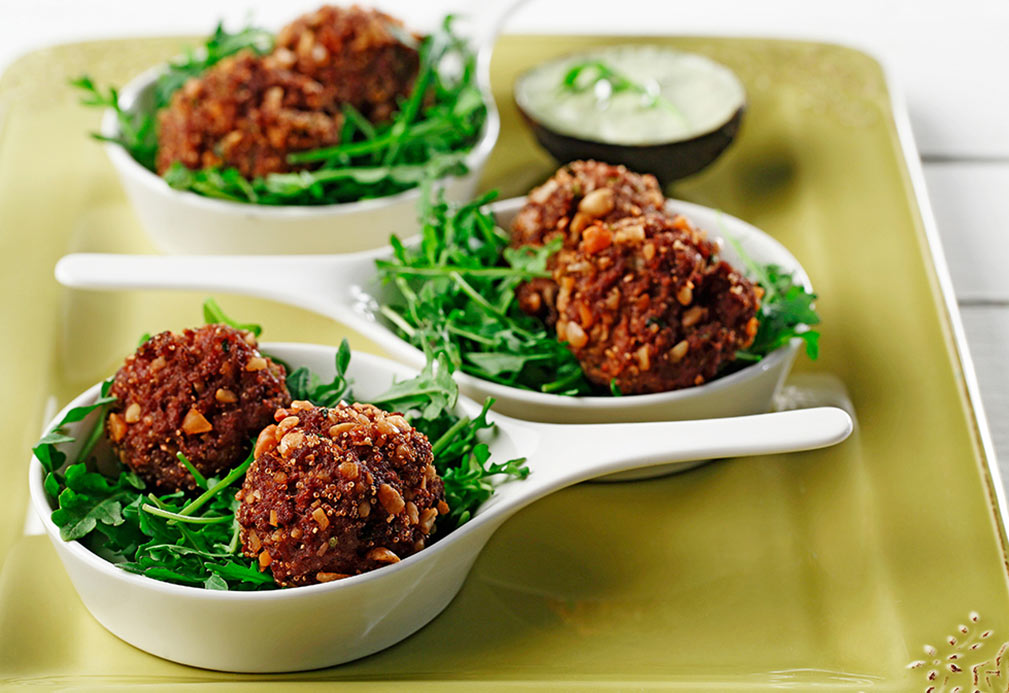 INGRÉDIENTS
Meatballs
1/3 cup amaranth seed 75 mL
1 lb ground beef 500 g
1/2 cup finely chopped onion 125 mL
2 Tbsp freshly chopped mint 30 mL
2 Tbsp lime zest 30 mL
1 cup finely chopped peanuts 250 mL
1/4 tsp salt 1 mL
1/4 tsp ground black pepper 1 mL
2 cups canola oil 500 mL
Avocado Sauce
1 cup natural yogurt 250 mL
1/2 avocado
2 Tbsp cilantro leaves 30 mL
1 Tbsp lime juice 15 mL
1/4 tsp salt 1 mL
1/4 tsp ground black pepper 1 mL
PRÉPARATION
1. In saucepan, add amaranth seed to 1 cup (250 mL) water. Bring to a boil, reduce heat and simmer until amaranth is tender, about 15 minutes.
2. For meatballs: Combine amaranth, ground beef, onion, mint, lime zest, peanuts, salt and pepper. Form into 16 balls (about 1-inch/2.5-cm each). Preheat oven to 350 °F (180 °C).
3. In deep skillet, heat canola oil over medium heat. Working in batches, add meatballs to canola oil. Cook until golden brown, about 6 to 7 minutes. Once cooked, transfer to parchment-lined baking sheet. Finish cooking meatballs in oven 5 to 10 minutes or until meatballs reach an internal temperature of 160 °F (71 °C).
4. To make Avocado Sauce: Blend together all ingredients. Serve with meatballs.
RENDEMENT
4 servings
PORTION
4 meatballs with 1/3 cup (75 mL) avocado sauce
VALEUR NUTRITIVE
Per Serving
| | |
| --- | --- |
| Calories | 692 |