Carrot and Cabbage Tinga Tostadas
Celebrate Mexico with the original vegetarian tortilla toasts (tostadas). The vegetables taste better and even are better for you thanks to the benefits of canola oil, which has a mild flavor and helps the body absorb nutrients.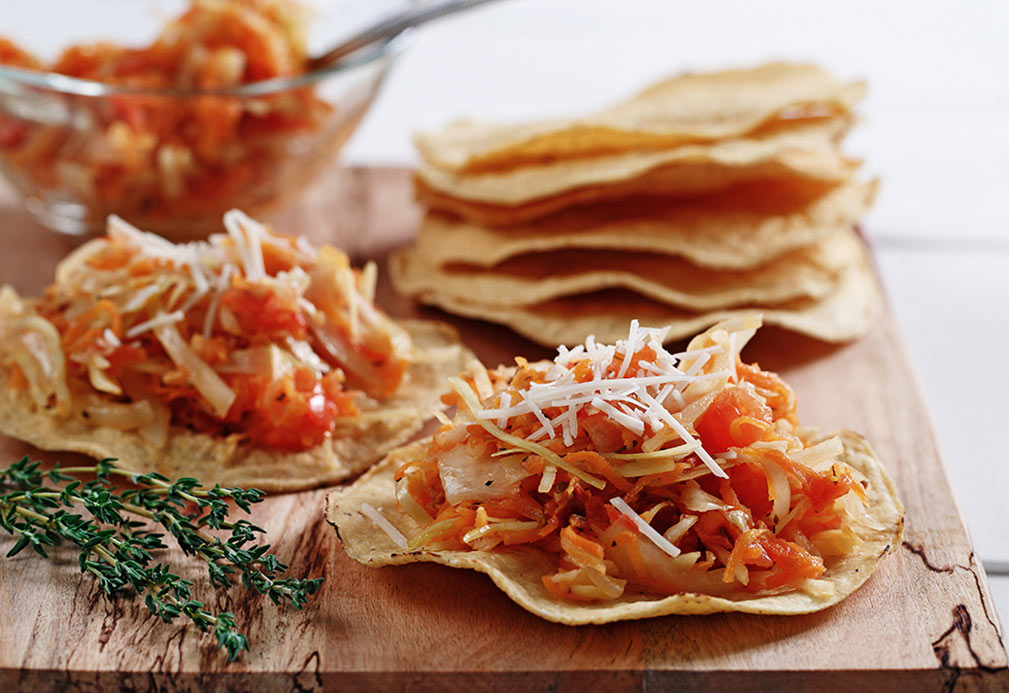 INGRÉDIENTS
1/2 cup sliced onion
2 garlic cloves, minced
1 Tbsp canola oil 15ml
6 cups chopped and strained tomatoes 1.5 L
1 cup vegetable stock 250 mL
3 cups grated carrots 750 mL
3 cups shredded cabbage 750 mL
1 chipotle chile in adobo, chopped
1 tsp thyme 5 mL
1 tsp oregano 5 mL
4 baked corn tortillas (tostadas)
1/4 cup añejo cheese or parmesan cheese 60 mL
PRÉPARATION
1. In large skillet, sauté onion and garlic in canola oil until soft. Add tomato and cook for 10 minutes. Add stock, carrots and cabbage and cook for another 10 minutes.
2. Add chipotle, thyme and oregano and cook 3 more minutes. Drain extra liquid.
3. Serve tinga mixture over tortilla toasts and sprinkle with cheese.
RENDEMENT
4 servings
PORTION
1 1/2 cups (375 mL) tinga mixture on 1 tortilla with 1 Tbsp (15 mL) cheese
VALEUR NUTRITIVE
Per Serving
| | |
| --- | --- |
| Calories | 249 |