Lemongrass Ginger Steamed White Fish with Sautéed Spinach
Steaming is an easy way to prepare fish and adding a little canola oil ensures it won't dry out.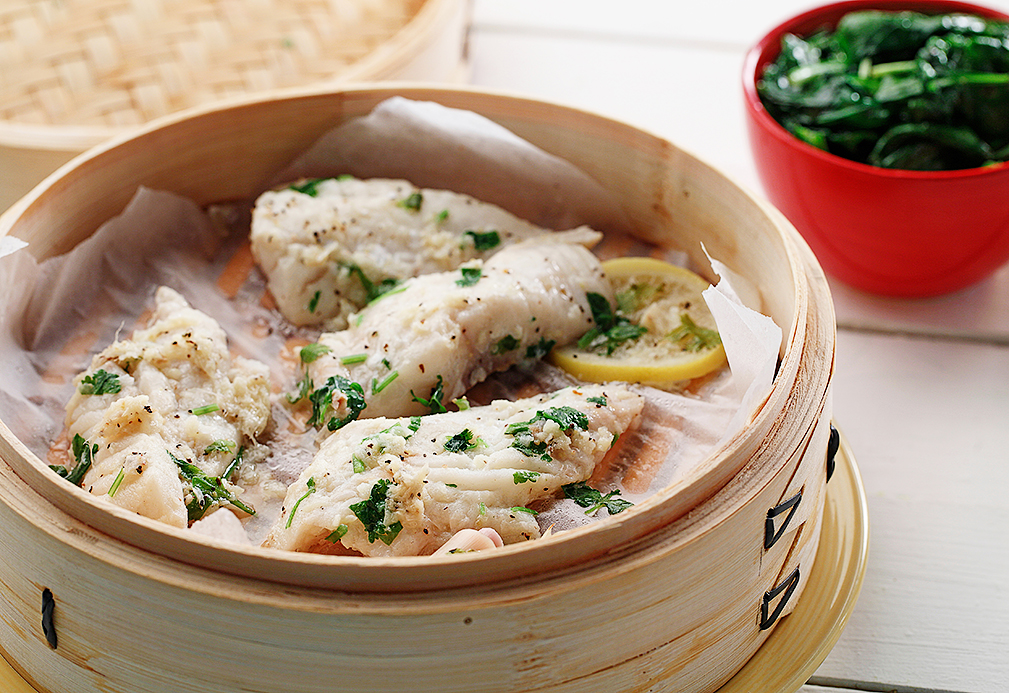 INGRÉDIENTS
6 white fish fillets (about 5 oz/140 g each)
1/4 tsp salt 1 mL
1/4 tsp ground black pepper 1 mL
Marinade
2 lemongrass stems
2 lemons, sliced
3 inches (7.5 cm) fresh ginger, minced
2 garlic cloves, minced
2 Tbsp canola oil 30 mL
1/2 cup chopped cilantro 125 mL
Vegetable
1 tsp canola oil 5 mL
6 cups chopped spinach 1.5 L (about 6 oz/170 g)
2 tsp chopped dill 10 mL
1/2 tsp nutmeg 2 mL
1/4 tsp salt 1 mL
1/2 tsp ground black pepper 2 mL
2 Tbsp sesame seeds 30 mL
PRÉPARATION
1. Score both sides of white fish fillets then season with salt and pepper.
2. To prepare marinade, score lemongrass stems and slightly squeeze lemon slices to help release flavors. In glass bowl, combine all marinade ingredients. Add fish and marinate for 30 minutes.
3. Line steamer with parchment paper, place fish on parchment. Place lid on steamer and steam for about 8 minutes or until fish just starts to become flaky.
4. Meanwhile, in skillet, heat 1 tsp (2 mL) canola oil and sauté spinach. Season with dill, nutmeg, salt and pepper.
5. Serve fish on bed of sautéed spinach. Sprinkle with sesame seeds.
RENDEMENT
6 servings
PORTION
1 fish fillet and 2 tsp marinade (10 mL)
VALEUR NUTRITIVE
Per Serving
| | |
| --- | --- |
| Calories | 430 |