Pozole
This hearty soup is a healthier version of the traditional Mexican dish. Using chicken breasts and canola oil significantly reduces its saturated fat content.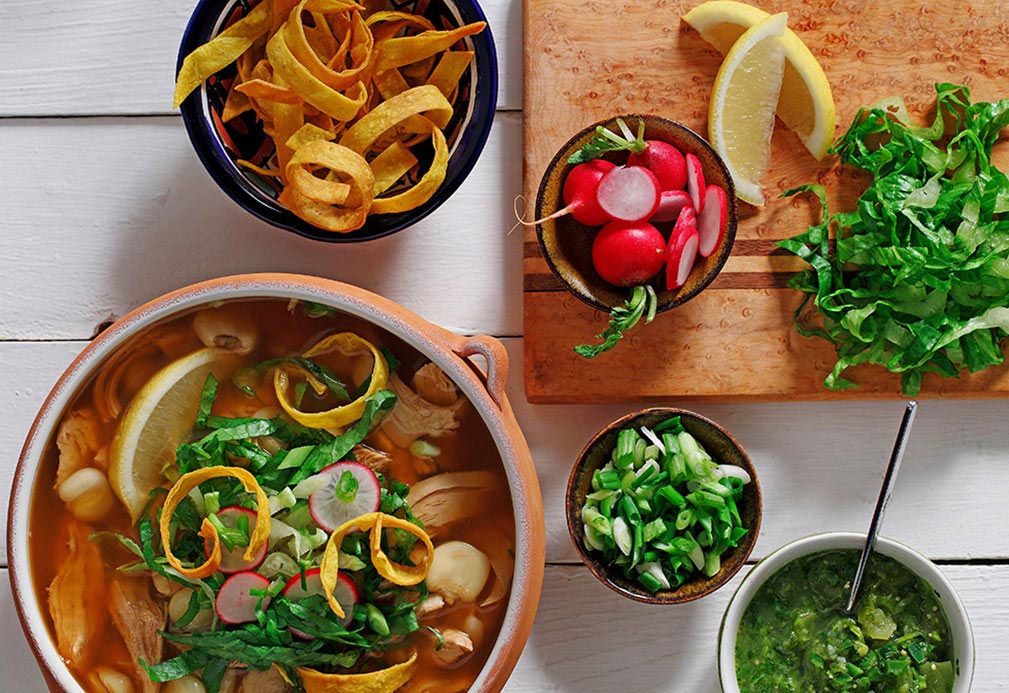 INGRÉDIENTS
24 oz skinless chicken breasts 750g
1/2 small onion
1 small sprig epazote* or 1 tsp (5 mL) dried oregano leaves
2 garlic cloves
2 cans (15 oz/425 g) white hominy, drained and rinsed
2 cups (500 mL) reduced-sodium chicken stock
1 Tbsp chili powder 15 mL
1/2 tsp salt 2 mL
1/2 tsp ground black pepper 2 mL
Green Salsa
1 Tbsp canola oil 15 mL
1 garlic clove
8 tomatillos, cut into 4 wedges
3 jalapeño chile peppers, seeds and veins removed, diced
1 cup cilantro 250 mL
1/2 tsp salt 2 mL
Garnishes
4 corn tortillas
1 Tbsp canola oil 15 mL
6 radishes, sliced
1/4 cup chopped green onion 60 mL
2 cups thinly sliced romaine lettuce 500 mL
2 lemons, cut in halves
PRÉPARATION
1. In large stock pot, boil 10 cups (2.5 L) water. Add chicken breasts with onion, epazote or oregano and garlic. When chicken is cooked (about 25 minutes), remove from broth and set aside. Strain broth and return to stock pot. Add hominy, chicken stock, chili powder, salt and pepper to broth and cook until hominy is soft. Remove any hominy skins that float to surface.
2. To prepare Green Salsa: In skillet, heat canola oil over medium heat. Add garlic and tomatillos and sauté until tomatillos soften. In food processor, process cooked tomatillos and garlic with jalapeños, cilantro and salt until chopped consistency is achieved. Cover and place in refrigerator.
3. When chicken has cooled, shred it and add to broth.
4. Brush corn tortillas with canola oil. Stack and cut in half and then into strips. Separate strips and bake at 350 °F (180 °C) for 10 minutes or until crisp and golden. Cool.
5. Serve soup with green salsa and garnishes.
Tip: Epazote is a Mexican herb sometimes called pigweed or Mexican tea. If you can't find it, use 1 tsp (5 mL) dried oregano leaves instead.
RENDEMENT
12 servings
PORTION
2 cups (500 mL)
VALEUR NUTRITIVE
Per Serving
| | |
| --- | --- |
| Calories | 190 |