Quick Sweet Potato Pie with Honey Walnut Topping
A traditional sweet potato pie with an indulgent honey walnut topping makes the ultimate in pies.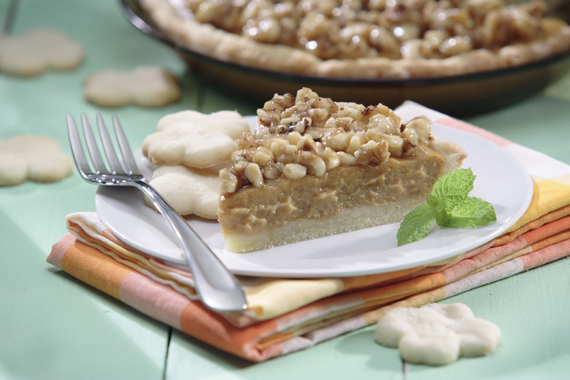 INGRÉDIENTS
1 cup all purpose flour 250 mL
1/2 cup icing sugar 125 mL
dash salt
1/4 cup canola oil 60 mL
1 egg
1 Tbsp milk 15 mL
Filling
1 (15oz/443 mL) can sweet potatoes, drained and mashed or 1 cup (250 mL) fresh mashed sweet potatoes
1/3 cup brown sugar 75 mL
1/2 tsp ground cinnamon 2 mL
1 Tbsp canola oil 15 mL
2 eggs
1/3 cup evaporated skimmed milk 75 mL
1 tsp vanilla 5 mL
Topping
1/4 cup light brown sugar 60 mL
1 Tbsp canola oil 15 mL
2 Tbsp honey 30 mL
3/4 cup coarsley chopped walnuts 175 mL
PRÉPARATION
1. For the cookie crust sift flour, icing sugar and salt together into a large bowl.
2. In separate small bowl, whisk together canola oil, egg and milk. Pour liquid ingredients over dry ingredients and quickly stir ingredients together, just until combined.
3. Spoon mixture into a 9-inch (22 cm) pie plate and press mixture onto the bottom and up the sides of the pie plate.
4. Preheat oven to 350°F (180°C). In a mixing bowl, beat together sweet potatoes, brown sugar, cinnamon, canola oil, and eggs. Gradually add milk, beating until creamy.
5. Pour into the partially baked cookie crust. Bake for 40 to 45 minutes, or until the pie is set. When done, remove pie from the oven and spread the Honey Walnut Topping evenly over top. Return to oven and broil until topping is bubbly and golden brown. Watch carefully.
6. To make walnut topping: In a medium non-stick pot, combine brown sugar, canola oil and honey. Cook over low heat until sugar dissolves, stirring constantly. Add walnuts and stir until well-coated.
Note:Cookie crust may be baked unfilled at 350°F (180°C) for 10 to 12 minutes.
RENDEMENT
8 servings
PORTION
VALEUR NUTRITIVE
Per Serving
| | |
| --- | --- |
| Calories | 390 |