Whole Grain Apple Oven Pancake
This mouthwatering recipe makes serving pancakes to a crowd a cinch. The batter is simply poured in a skillet and baked into one big, golden brown, apple-filled pancake, eliminating the need to stand over a hot stove flipping flapjacks. Using canola oil, whole-grain flour and unpeeled apple gives you the best in taste and health.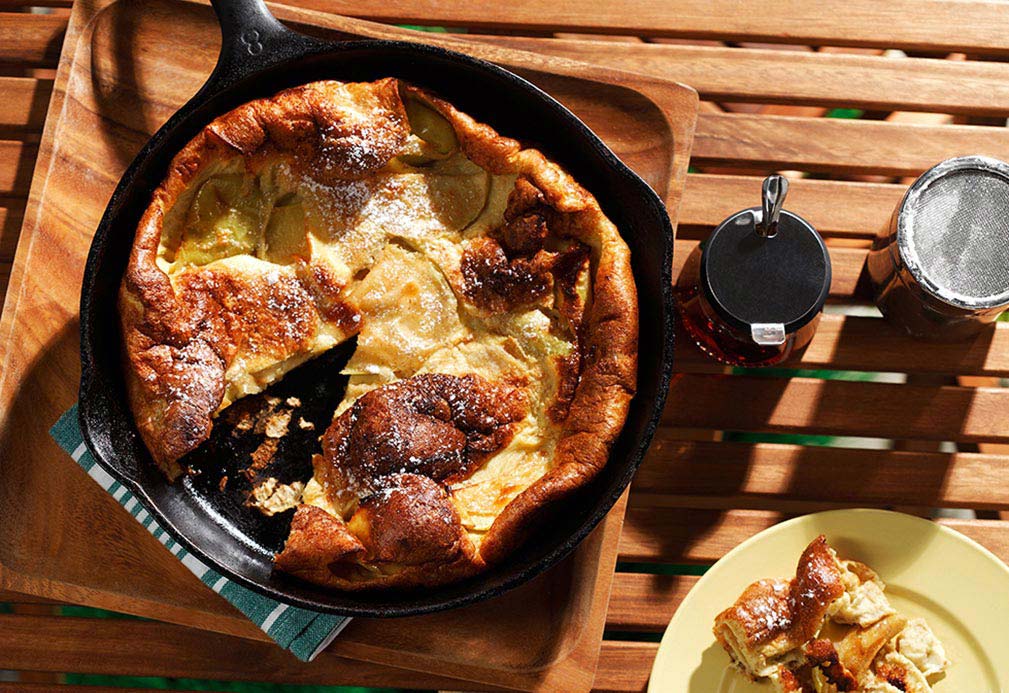 INGRÉDIENTS
1 large Golden Delicious apple, unpeeled, sliced into 1/8-inch (3-mm) pieces
1 Tbsp fresh lemon juice 15 mL
2 Tbsp packed light brown sugar, divided 30 mL
1/4 tsp ground cinnamon .5 mL
4 large eggs
3/4 cup nonfat milk 175 mL
1 tsp vanilla extract 5 mL
1/4 tsp salt 1 mL
1/3 cup all-purpose flour 75 mL
1/3 cup whole-grain pastry flour or regular whole-grain flour 75 mL
2 Tbsp canola oil 30 mL
3 Tbsp maple syrup 45 mL
PRÉPARATION
1. Position rack in center of oven and preheat to 400 °F (200 °C).
2. In medium bowl, toss apple slices with lemon juice, 1 Tbsp (15 mL) each of brown sugar and cinnamon.
3. In large bowl, beat eggs with electric hand mixer on high speed until frothy. Add milk, remaining 1 Tbsp (15 mL) sugar, vanilla and salt, and mix on low speed to combine. Sprinkle in flours and continue to mix on low until just combined.
4. In 12-inch (30-cm) cast iron or oven-proof, nonstick skillet, heat canola oil in over medium heat. Add apple slices and cook until softened while still retaining their shape, about 5 minutes. In skillet, arrange apple slices in single layer and pour batter evenly over them. Transfer skillet to oven and bake until pancake is set and golden brown, about 20 minutes. Cut into eight wedges. Serve drizzled with maple syrup.
Tip: Make the batter up to a day ahead for less fuss on the day of serving.
RENDEMENT
8 servings
PORTION
1 wedge
VALEUR NUTRITIVE
Per Serving
| | |
| --- | --- |
| Calories | 160 |