Grilled Corn and Tomato Salad
This is a light and summery dish that shows off corn and tomatoes at their best. Canola helps keep saturated fat to a minimum.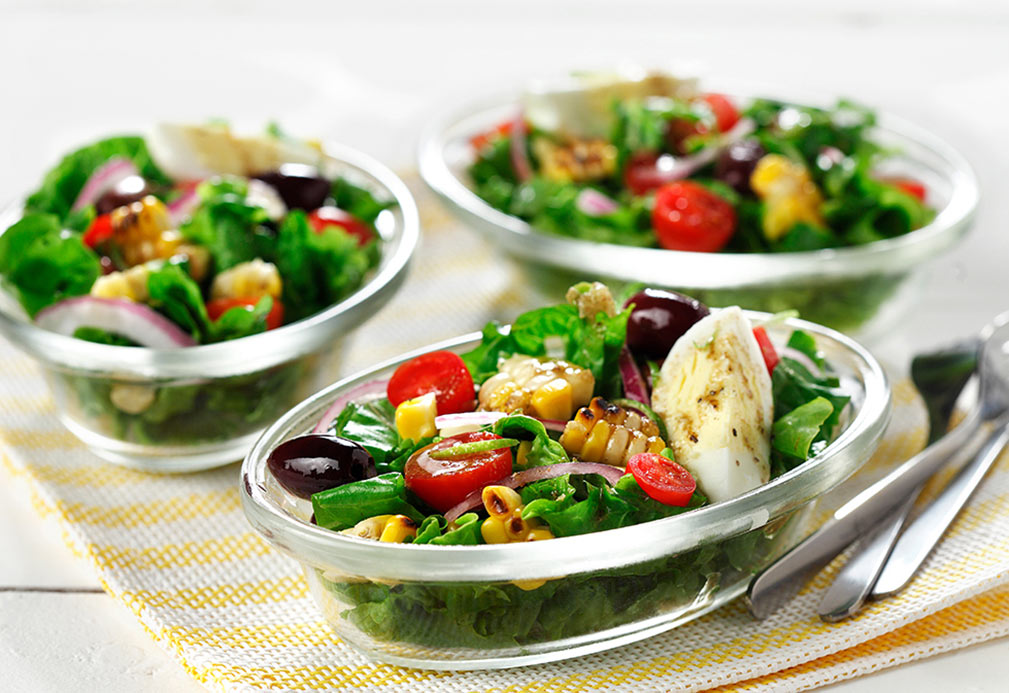 INGRÉDIENTS
Vinaigrette
1/2 tsp ground cumin 2 mL
1/2 tsp ground coriander 2 mL
1 1/2 Tbsp canola oil 20 mL
2 Tbsp lime juice 30 mL
1 tsp lime zest 5 mL
1 garlic clove, minced
Salad
2 ears corn on the cob, shucked and grilled*
2 cups cherry tomatoes cut in half 500 mL
2 Tbsp thinly sliced red onion 30 mL
1/3 cup Kalamata olives whole and pitted 75 mL
4 cups leaf lettuce, shredded 1 L
4 hard-boiled eggs, quartered 
PRÉPARATION
1. In a small bowl, whisk together cumin, coriander, canola oil, lime juice, zest and garlic. Set aside.
2. In large bowl, gently combine corn, tomatoes, onion, olives and vinaigrette. 
3. Divide lettuce among four plates, top with salad and garnish with egg. 
*Cook's Note: You can replace the fresh shucked and grilled corn with 1 cup (250 mL) frozen corn.
RENDEMENT
4 servings
PORTION
1 cup (250 mL)
VALEUR NUTRITIVE
Per Serving
| | |
| --- | --- |
| Calories | 200 |