Baked Salmon, with Honey, Garlic and Ginger
Salmon, honey and canola oil make this dish a delicacy that takes care of our heart and tastes great too.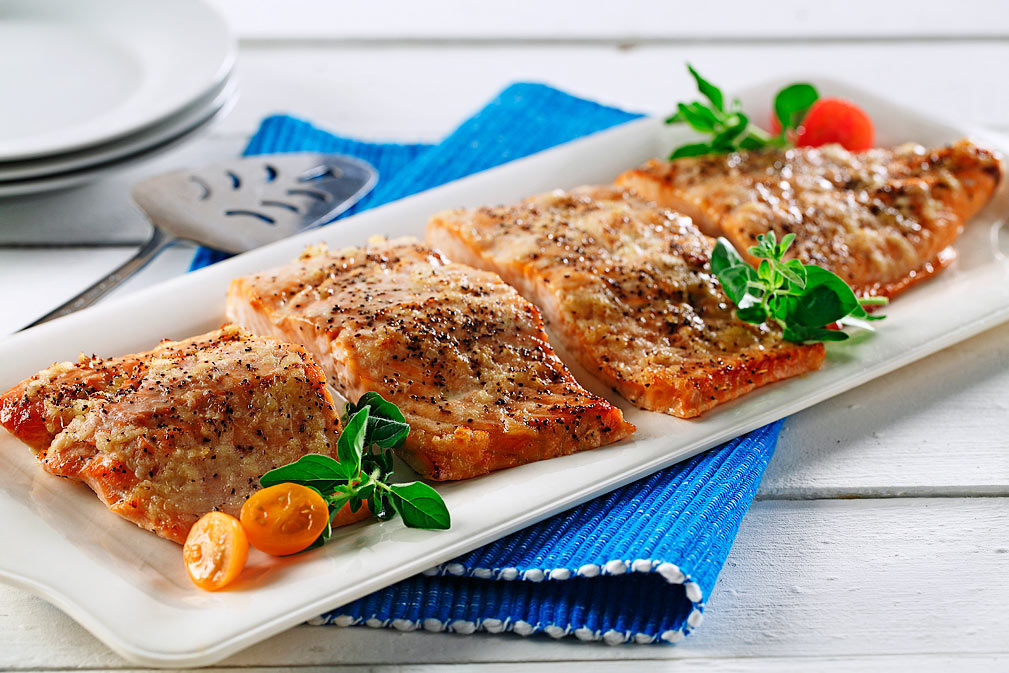 Ingredients
Canola oil cooking spray
4 salmon fillets (about 4 oz/120 g each)
1 Tbsp canola oil 15 mL
1 Tbsp honey 15 mL
3 cloves garlic, finely chopped
1 Tbsp freshly grated ginger 15 mL (optional)*
1/4 tsp salt 1 mL
1/4 tsp ground black pepper1 mL
Instructions
1. Preheat oven to 375°F (190ºC)
2. Spray baking dish with canola oil spray. Place salmon fillets skin down, in baking dish.
3. In a small bowl, mix canola oil, honey, garlic and ginger.
4. Sprinkle salmon with salt and pepper and brush them with honey and ginger mixture.
5. Bake until salmon is just starting to flake (about 10 minutes) and allow to sit and finish cooking for 5 minutes.
*You can leave out the ginger and add a few drops of lemon juice right before serving.
Yield
4 servings
serving size
1/2 cup (125 mL)
nutritional analysis
Calories
200
Total Fat
9 g
Saturated Fat
1 g
Cholesterol
55 mg
Carbohydrates
5 g
Fiber
0 g
Sugars
4 g
Protein
25 g
Sodium
270 mg
Potassium
457 mg