Balsamic and Tequila Glazed Sirloin Steak
This juicy and lean seared sirloin steak is coated with a sublime balsamic and tequila glaze and set over caramelized onions and red peppers.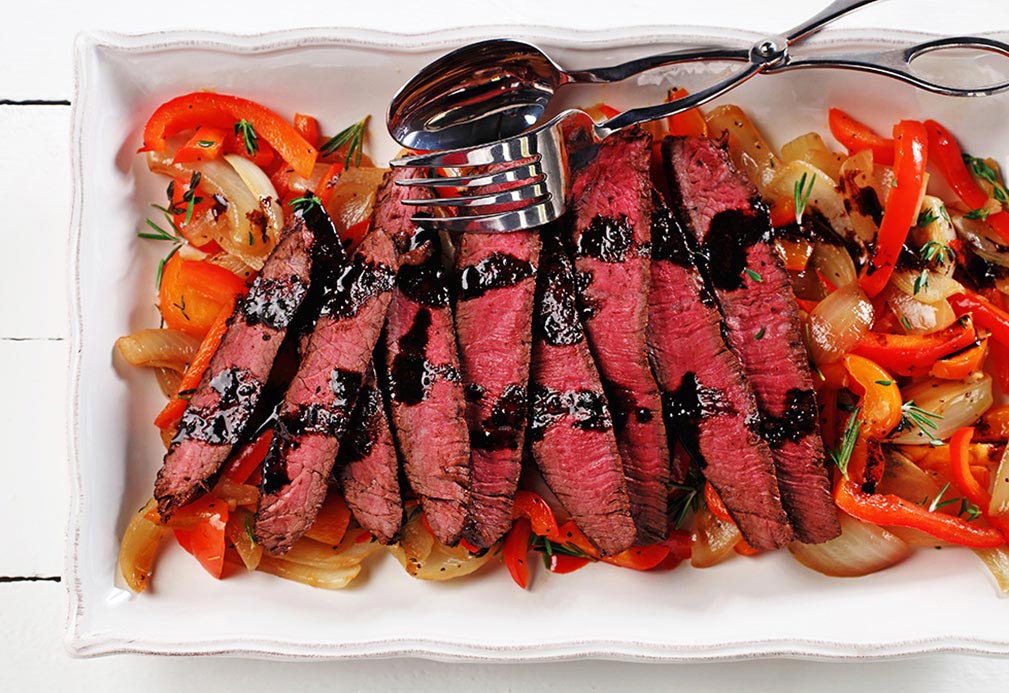 Ingredients
1 cup balsamic vinegar 250 mL
1/4 cup tequila 60 mL
1 Tbsp granulated sugar 15 mL
2 Tbsp canola oil 30 mL
2 medium onions, peeled and cut vertically into 1/2-inch (1.25-cm) slices
1 garlic clove, minced
2 medium red peppers, cored and cut into 1/4-inch (0.63-cm) slices
1/2 Tbsp fresh finely chopped rosemary 15 mL
1 Tbsp fresh finely chopped thyme 15 mL
1/4 tsp salt 1 mL
1/4 tsp ground black pepper 1 mL
2 lbs (1 kg) Sirloin steak, 1 1/2-inch (4-cm) thick cut, trimmed of excess fat
1 cup dry red wine 250 mL
1/4 tsp salt 1 mL
1/4 tsp ground black pepper 1 mL
Instructions
1. In small saucepan, combine balsamic vinegar, tequila and sugar. Heat over medium-high heat, bring to a boil and reduce by half.
2. In large non-stick skillet, heat 2 Tbsp (30 mL) canola oil over medium heat, add onions and sauté until golden brown. Then add garlic, red peppers and herbs and sauté until peppers are tender. Season with salt and pepper. Remove from skillet and transfer to warm plate.
3. Return skillet back to medium-high heat. Add 2 Tbsp (30 mL) canola oil and steak. Sauté until brown on all sides and cooked until desired doneness. Remove steak and cover loosely with foil. Add red wine to skillet and cook until reduced by half. Add balsamic tequila reduction and steak back to sauce; season with salt and pepper. Divide onion and red pepper mixture onto warm serving platter. Slice steak and arrange on top. Drizzle any remaining sauce over steak. Serve immediately.
Yield
8 servings
serving size
1 cup (250 mL).
nutritional analysis
Per Serving
Calories
270
Total Fat
8 g
Saturated Fat
2 g
Cholesterol
65 mg
Carbohydrates
12 g
Fiber
1 g
Sugars
9 g
Protein
26 g
Sodium
220 mg
Potassium
585 mg