Banana Bread with Chocolate Drizzle
This easy banana bread seems too good to be true. It is incredibly moist, bursting with flavor and luxuriously drizzled with melted chocolate.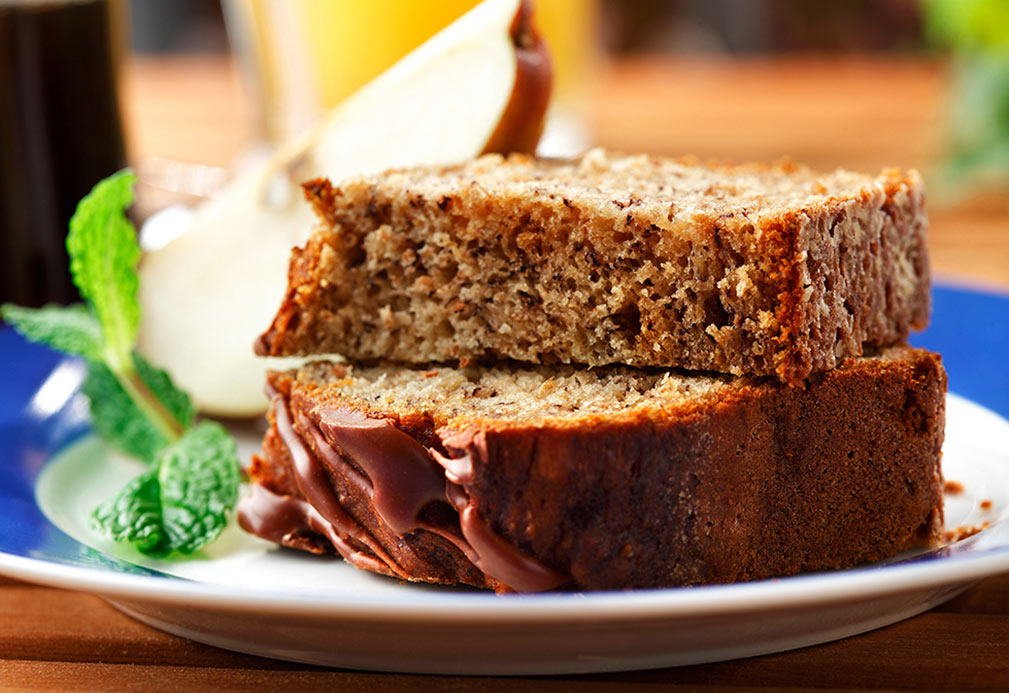 Ingredients
Banana Bread
Canola oil cooking spray
3/4 cup all-purpose flour 175 mL
1 cup whole-wheat pastry flour 250 mL
1/4  cup granulated sugar 60 mL
1/4  cup packed light brown sugar 60 mL
1 tsp baking soda 5 mL
1/2 tsp baking powder 2 mL
1/4 tsp salt 1 mL
1/4 cup canola oil 60 mL
1/4 cup nonfat plain yogurt 60 mL
1 large egg
1 large egg white
1 tsp vanilla extract 5 mL
3 large, very ripe bananas, peeled and mashed (about 1 1/2 cups/ 375 mL)
Chocolate Drizzle
2 Tbsp confectioners sugar 30 mL
2 tsp 1% low-fat milk, plus more if needed 10 mL
1/2 oz dark chocolate (60-70% cocoa solids), finely chopped 15 g
Instructions
1. Preheat oven to 350 °F (180 °C).
2. Spray 9 x 5-inch (22 x 12.5-cm) loaf pan with canola oil cooking spray. 
3. In large bowl, whisk together flours, sugars, baking soda, baking powder and salt. 
4. In medium bowl, whisk together canola oil, yogurt, eggs and vanilla, then whisk in mashed banana to combine. Add wet ingredients to dry ingredients and mix until just combined. Pour batter into prepared pan and bake until wooden skewer inserted into center comes out clean, 50-55 minutes. Allow to cool, then transfer bread out of pan onto plate. 
To make chocolate drizzle:
1. In small saucepan, combine confectioners sugar and milk. Cook over low heat, stirring until combined. Add chocolate and cook until just melted, stirring continuously, about 1 minute.
2. Drizzle chocolate over top of banana bread. Allow chocolate to cool and set, then slice and serve.
Yield
10 servings
serving size
one 3/4-inch (2-cm) slice.
nutritional analysis
Per Serving
Calories
230
Total Fat
7 g
Saturated Fat
1 g
Cholesterol
20 mg
Carbohydrates
39 g
Fiber
3 g
Protein
4 g
Sodium
230 mg