Basil Focaccia Wedges
These mini-pizzas will inspire children to eat vegetables! The canola oil browns the vegetables, brings out their rich flavors, and gives the dough a crispy crust.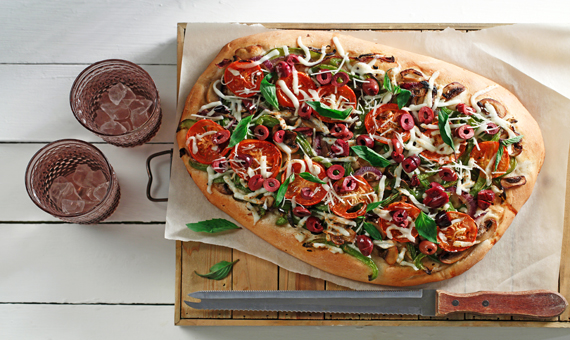 Ingredients
1 1/2 Tbsp canola oil, divided 20 mL
1 cup thinly sliced green bell pepper 250 mL
1/2 cup thinly sliced red onion 125 mL
1/2 pkg (8 oz/225 g) sliced mushrooms
2 medium cloves garlic, minced
1 package (13.8 oz/ 391 g) focaccia-style, refrigerated pizza dough
1/4 tsp dried red pepper flakes 1 mL
1/2 cup chopped fresh basil leaves 125 mL
2 small plum tomatoes, cut into 12 rounds total
1/2 cup (2 oz/55 g) shredded part-skim mozzarella 125 mL
2 Tbsp grated Parmesan cheese 30 mL
16 pitted kalamata olives, chopped
Instructions
1. Preheat oven to 400 °F (200 °C). In large non-stick skillet over medium-high heat, heat 1 Tbsp (15 mL) canola oil. Add bell pepper and onions; cook 2 minutes. Add mushrooms; cook 2 minutes, using two utensils to stir easily. Add garlic, cook 15 seconds and set aside.
2. On baking sheet, drizzle remaining 1/2 Tbsp (7 mL) canola oil. Use fingertips to spread oil evenly. Unroll dough onto baking sheet and shape into 11 x 8 inch rectangle. Top dough with pepper flakes and mushroom mixture, spooning as close to edges as possible. Top with basil and arrange tomatoes in 12 even sections.
3. Bake 12 minutes. Sprinkle evenly with mozzarella. Bake 6 more minutes or until deep golden on edges. Top with Parmesan and sprinkle evenly with olives. Allow to cool to room temperature.
4. When serving, cut into 12 squares, and then cut each square in half diagonally to make 24 pieces total.
Tip: Using the prongs of a fork helps distribute vegetables evenly on top of uncooked dough. A pizza cutter allows for easier slicing of wedges.
Yield
12 servings
serving size
2 pieces
nutritional analysis
Per Serving
Calories
125
Total Fat
4.5 g
Saturated Fat
1 g
Cholesterol
5 mg
Carbohydrates
18 g
Fiber
1 g
Protein
5 g
Sodium
320 mg