Bean, Lentil and Brown Rice Casserole with Chipotle Peppers
Beans, lentils and brown rice pack a whole grain and vegetable protein punch.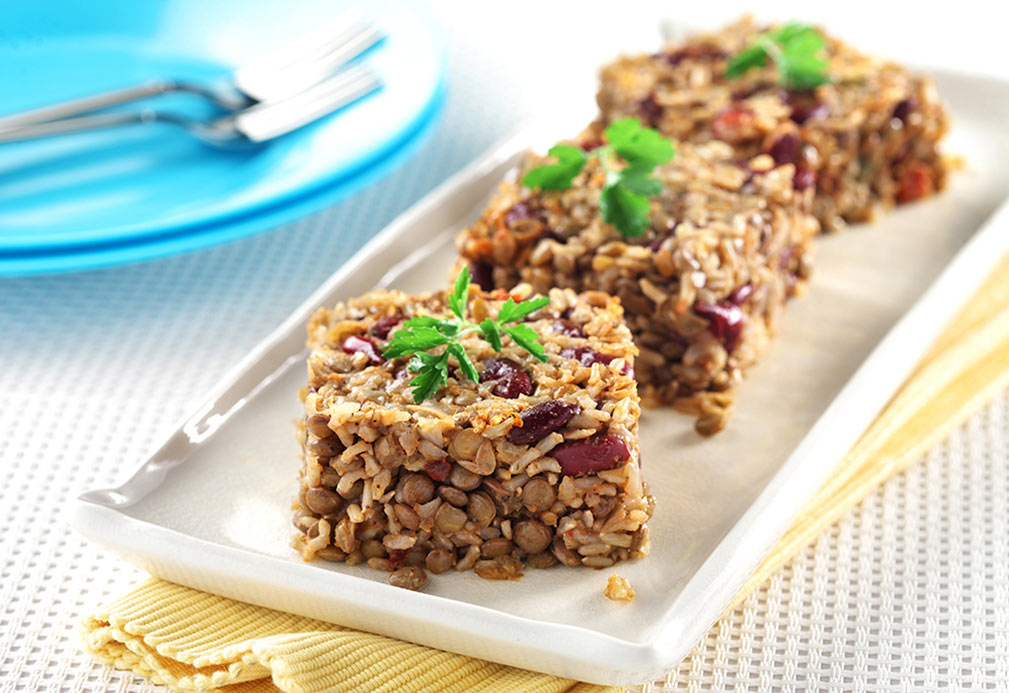 Ingredients
1 1/2 Tbsp canola oil 20 mL
1 cup onion chopped 250 mL
3 cloves garlic, minced
3 Tbsp chopped, canned chipotle peppers in adobo sauce 45 mL
1 tsp dried oregano 5 mL
1 tsp dried savory 5 mL
1/2 tsp freshly ground black pepper 2 mL
1 cup sodium-reduced medium or hot salsa 250 mL
1 cup raw brown basmati rice 250 mL
1 cup dried green lentils 250 mL
1 can (19 oz/540 mL) kidney beans, drained and rinsed
4 1/2 cups water 1.125 L
1 bay leaf
1 cup low-fat shredded Cheddar cheese 250 mL
Instructions
1. Preheat oven to 350 ºF (180 ºC). Lightly spray 3-quart (3.4 L) casserole with canola oil cooking spray and set aside.
2. In large pot, heat canola oil over medium-high heat. Add onions, reduce heat to medium and cook for 3-4 minutes. Add garlic, chipotle peppers, oregano, savory and black pepper and cook for 1-2 minutes more. Stir in salsa and deglaze pan.
3. Add brown rice, lentils, kidney beans, water and bay leaf. Bring to a boil. Transfer mixture to prepared baking dish. Cover with foil and bake in preheated oven for about 1 1/4 -1 1/2 hours or until rice and lentils are tender and no water remains. Stir twice during baking, replacing foil before returning to oven. 
4. Remove from oven, remove bay leaf and sprinkle with cheese. Leave foil off and return to oven for 3-4 minutes to melt cheese.
Yield
12 servings
serving size
1 cup (250 mL)
nutritional analysis
Per Serving
Calories
270
Total Fat
4 g
Saturated Fat
0.5 g
Cholesterol
0 mg
Carbohydrates
47 g
Fiber
13 g
Protein
14 g
Sodium
280 mg