Beef Tenderloin with Balsamic Coffee Sauce
This full flavored entree is guaranteed to satisfy your appetite!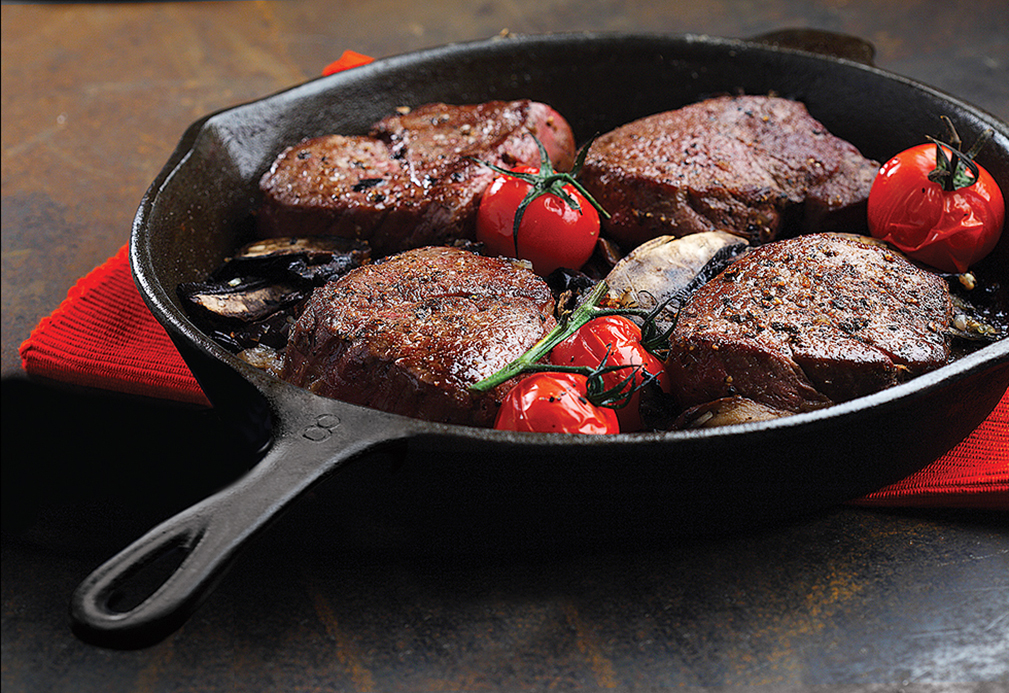 Ingredients
3/4 tsp coarsely ground black pepper 4 mL
1/2 tsp garlic powder 2 mL
1/2 tsp onion powder 2 mL
1/2 tsp salt 2 mL
4 beef tenderloin steaks (5 oz/140 g each), about 1 inch (2.5 cm) thick
2 Tbsp canola oil 30 mL
4 large shallots, peeled and finely chopped
6 oz/170 g sliced portabella mushrooms
3/4 cup strong coffee 175 mL
1/4 cup balsamic vinegar 60 mL
Instructions
1. Preheat oven to 200 °F (400 C).
2. In small bowl, combine black pepper, garlic powder, onion powder and 1/4 tsp (1 mL) salt. Sprinkle both sides of steaks with spice mixture, pressing down with fingertips to adhere. Set aside. Let stand for 15 minutes.
3. Heat 1 Tbsp (15 mL) canola oil in large, nonstick skillet over medium-high heat. Cook steaks 4 minutes, turn and cook 2 to 4 minutes longer or until desired doneness. Place steaks on separate plate and place in oven to keep warm.
4. Heat remaining 1 Tbsp canola oil to pan residue in skillet, cook shallots 15 seconds, stirring constantly. Add mushrooms and cook 3 minutes or until tender, stirring frequently, using two utensils as you would with stir-fry. Spoon equal amounts over beef and return to oven to keep warm.
5. To skillet, add coffee, vinegar and remaining 1/4 tsp (1 mL) salt. Bring to a boil over medium-high heat, continue to boil 4 or so minutes or until reduced to 1/4 cup (60 mL). Spoon over all and top with additional coarsely ground black pepper, if desired.
Yield
4 servings
serving size
3 1/2 oz/105 g beef, 1/3 cup (75 mL)  mushroom mixture and 1 Tbsp (60 mL) sauce.
nutritional analysis
Per Serving
Calories
170
Total Fat
8 g
Saturated Fat
1 g
Cholesterol
20 mg
Carbohydrates
15 g
Fiber
1 g
Protein
10 g
Sodium
320 mg