Berry Good For You Cookies
Baking with canola oil can reduce your saturated fat intake.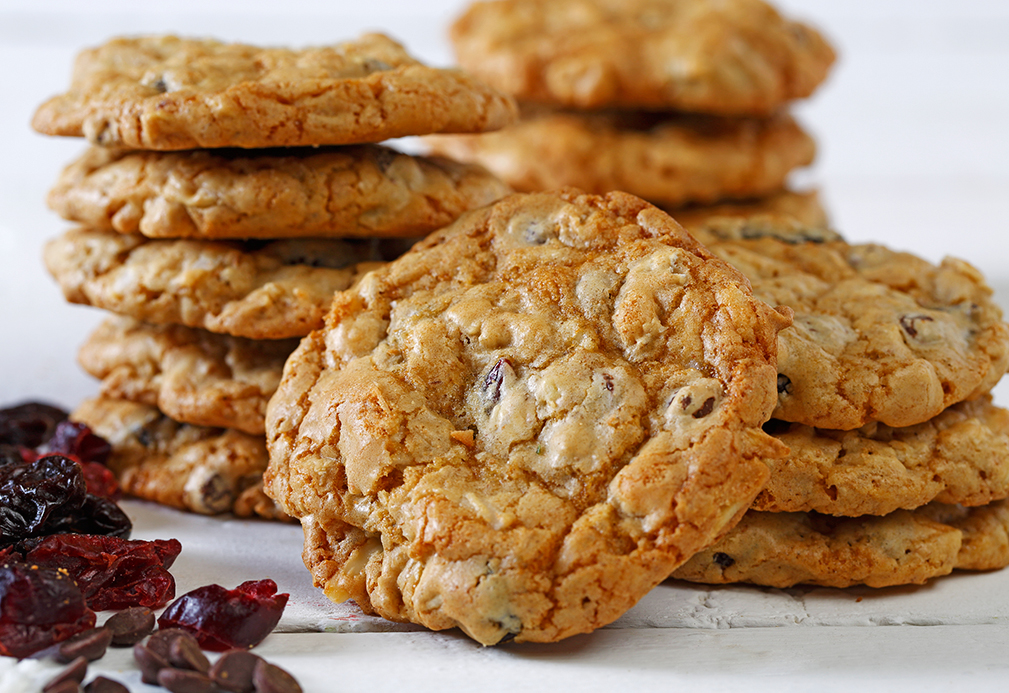 Ingredients
3/4 cup canola oil 175 mL
3 eggs
1 cup granulated sugar 250 mL
1 cup brown sugar 250 mL
1 Tbsp vanilla extract 15 mL
1 1/2 cups whole wheat flour 375 mL
1 tsp baking soda 5 mL
1 1/2 cups rolled oats 375 mL
1/2 cup flaked coconut 125 mL
1 cup dried cherries 250 mL
1/2 cup dried cranberries 125 mL
1/2 cup slivered almonds 125 mL
1/2 cup mini chocolate chips 125 mL
Instructions
1. Preheat oven to 350 °F (180 °C). In large mixing bowl, combine canola oil, eggs, granulated sugar, brown sugar and vanilla. Beat ingredients until well mixed.
2. In small bowl, combine flour, baking soda and salt. Add to canola mixture and stir until just combined.
3. Stir in rolled oats, coconut, cherries, cranberries, almonds and chocolate chips. Mix well.
4. Form dough into 1 inch (2.5 cm) balls and place about 2 inches (5 cm) apart on non-stick cookie sheet lined with parchment paper. Flatten slightly with fork. Bake for 10 to 12 minutes or until golden brown. Cool for 2 minutes on baking sheet and then remove to wire rack to cool completely.
Yield
5 dozen cookies
serving size
1 cookie
nutritional analysis
Per Serving
Calories
100
Total Fat
4.5 g
Saturated Fat
1 g
Cholesterol
10 mg
Carbohydrates
14 g
Fiber
1 g
Protein
1 g
Sodium
50 mg