Black Bean and Chorizo Soup
This hearty bean soup will warm you up on a cold winter day.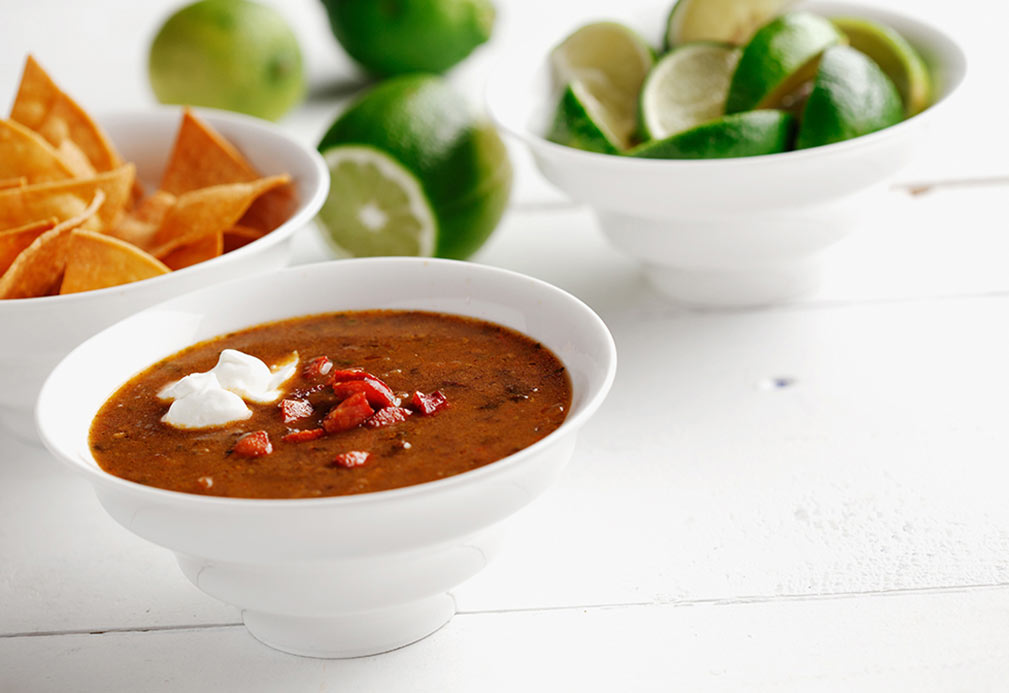 Ingredients
1 Tbsp canola oil 15 mL
1/2 onion, cubed
1 clove garlic, minced
1 tomato, deseeded and chopped
1 ancho chile, seeded, soaked in hot water
1 pasilla pepper, seeded, soaked in hot water
1 (19 oz/540 mL) can black beans, rinsed and drained
1 bouquet garni (1 Tbsp/15 mL each dried cilantro, oregano, marjoram wrapped in cheesecloth)*
1 lime, halved
4 cup chicken broth 1 L
2 Tbsp mezcal or tequila 30 mL    
Salt to taste
6 Tbsp chorizo, fried and crumbled 90 mL
6 Tbsp low-fat buttermilk 90 mL
*Cook's notes: Bouquet garni is a bundle of herbs used to prepare soup, stock and various stews. The bouquet is boiled with other ingredients, but removed prior to consumption. To make the bouquet, use 1 Tbsp (15 mL) each of dried cilantro, oregano and marjoram and place in cheesecloth to form a bundle.
Instructions
1. In deep pan or pot, heat canola oil at high heat and add onion. Sauté until brown and add garlic. Reduce heat to medium. Stir in tomatoes and peppers. Cook 15 minutes, stirring constantly to avoid burning.
2. Combine black beans, bouquet garni, limes and broth with mixture. Cook 5 minutes. Add mezcal or tequila, salt and discard lime halves and herbs. Cook 10 minutes. Blend and season to taste.
3. Garnish with buttermilk and chorizo. Yield: 10 servings. 1/2 cup (125 mL) servings.
Tip: If the soup is too thick, add more broth.
Yield
10 servings
serving size
1/2 cup (125 mL) servings.
nutritional analysis
Per Serving
Calories
180
Total Fat
7 g
Saturated Fat
2 g
Cholesterol
10 mg
Carbohydrates
18 g
Fiber
6 g
Protein
10 g
Sodium
310 mg