Broiled Chicken Wings With Two Sauces
Broiled chicken wings served with two sauces are sure to satisfy everyone's taste buds.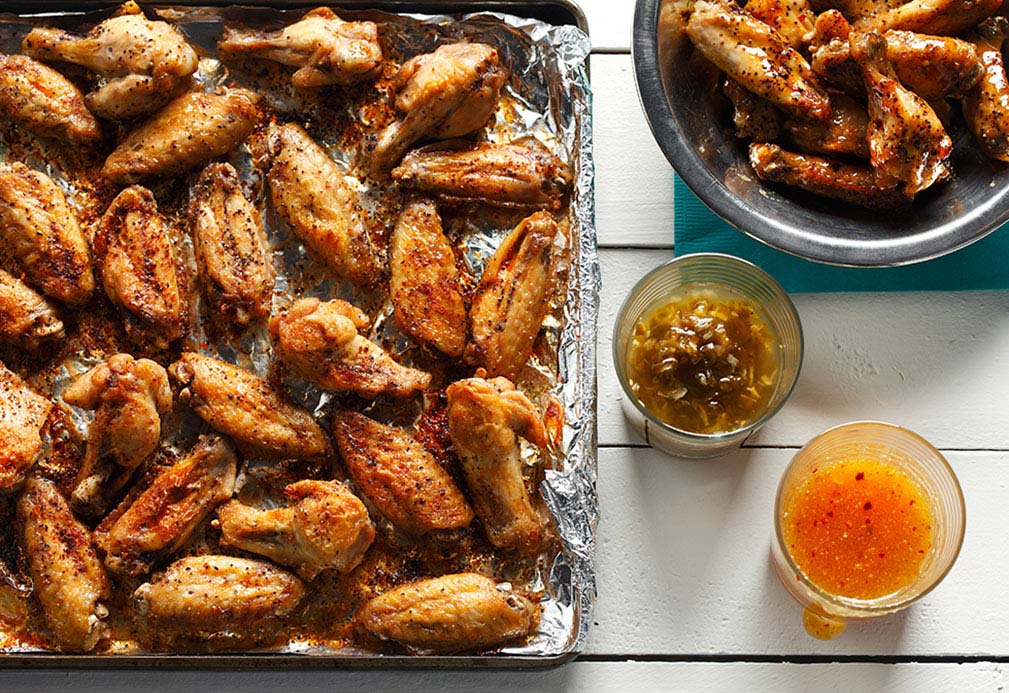 Ingredients
2 lbs chicken wings, tips removed and discarded, then cut into 2 pieces 1 kg
3 Tbsp canola oil 45 mL
Seasoning salt and seasoning pepper to taste
Peach Sauce:
3/4 cup peach jam or preserves 175 mL
1/3 cup lime juice 75 mL
2 cloves garlic, minced
1/2 tsp cumin 2 mL
1/2 tsp dried chili flakes 2 mL
Jalapeno Chili Pepper Sauce:
2 jalapeno chili pepper, seeded and finely chopped
2 cloves garlic, minced
1/3 cup granulated sugar 75 mL
2 Tbsp water 30 mL
1/2 cup white wine vinegar 125 mL
1 Tbsp grated ginger 15 mL
Instructions
1. Preheat broiler. Prepare chicken wings. Brush wings with canola oil and sprinkle liberally with salt and pepper. Spread wings on rack of broiler pan. Broil 4 to 5 inches (10 to 13 cm) from heat, turning once until wings are cooked, about 20 minutes. While wings are broiling, prepare sauces.
2. For Peach Sauce, combine peach jam, lime juice, garlic, cumin, chili flakes in a food processor and blend mixture until smooth. Pour into small saucepan and heat and simmer mixture over low heat, about 10 minutes. Pour into sauce dish and cool to room temperature.
3. For the Jalapeno Chili Pepper Sauce, combine chopped jalapeno chili peppers, garlic, sugar, water, vinegar and ginger in saucepan. Simmer over low heat for about 10 minutes or until slightly thickened. Pour into sauce dish and cool to room temperature. Serve sauces with hot wings.
Jalapeno Chili Pepper Sauce Nutritional Analysis per 3 chicken wings and 2 Tbsp (30 mL) of sauce:
Calories 230
Total Fat 15 g
Saturated Fat 2 g
Cholesterol 45 mg
Carbohydrates 8 g
Fiber 0 g
Sugars 8 g
Protein 16 g
Sodium 190 mg
Potassium 126 mg
Yield
4 servings.
serving size
3 chicken wings with 2 Tbsp (30 mL) peach sauce.
nutritional analysis
Calories
260
Total Fat
15 g
Saturated Fat
2 g
Cholesterol
45 mg
Carbohydrates
15 g
Fiber
0 g
Sugars
13 g
Protein
16 g
Sodium
190 mg
Potassium
125 mg