Cabbage Roll Casserole
This casserole provides all the flavor of cabbage rolls without the work of rolling them! Canola oil helps keep saturated fat content low.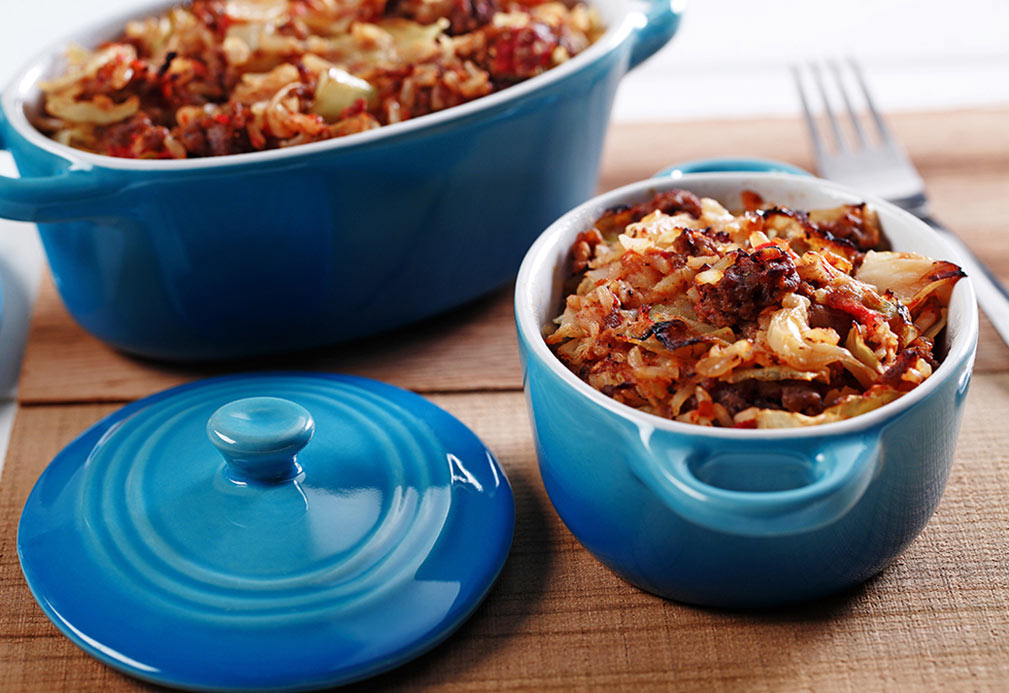 Ingredients
2 Tbsp canola oil 30 mL
1 medium onion, diced
3 cloves garlic, minced
1 lb extra lean ground sirloin 500 g
1/4 tsp salt 1 mL
1/4 tsp ground black pepper 1 mL
2 cups chopped cabbage 500 mL
1 can (796 mL/28 oz) diced tomatoes
3/4 cup long grain brown rice 175 mL
1 cup sodium-reduced vegetable or beef broth 250 mL
Instructions
1. In large skillet with lid, heat canola oil over medium. Sauté onions and garlic about 5 minutes.
2. Add ground beef. Brown about 5 minutes over medium-high heat. Season to taste with salt and pepper.
3. Add cabbage, tomatoes, rice and broth and stir well. Bring to a boil. Reduce heat to low simmer, cover and cook for 30 minutes or until rice is tender. If preferred instead, after bringing mixture to a boil, bake in oven-proof skillet with lid in 350 °F (180 °C) oven for about 40 minutes.
Yield
8 servings
serving size
1 cup (250 mL).
nutritional analysis
Per Serving
Calories
200
Total Fat
6 g
Saturated Fat
1 g
Cholesterol
30 mg
Carbohydrates
22 g
Fiber
2 g
Sugars
5 g
Protein
14 g
Sodium
140 mg
Potassium
101 mg