Cajun Garlic Chicken Thighs
Now this is definitely a "slow-simmered" skillet of comfort! Tender pieces of chicken are smothered in a rich, brown, garlicky onion sauce. You'll want to double this recipe and keep some in the freezer to pull out after one of those hectic days!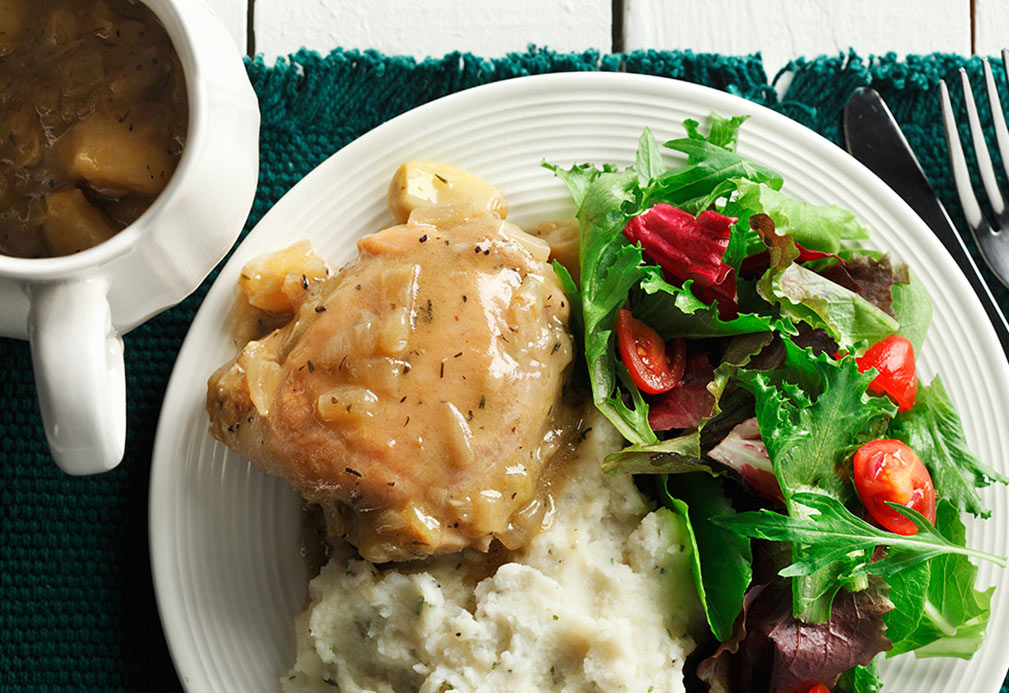 Ingredients
2 Tbsp canola oil 30 mL, divided
4 skinned chicken thighs with bone in, trimmed of fat
1 cup diced onions 250 mL
12 medium garlic cloves, peeled only
2 Tbsp all-purpose flour 30 mL
1 cup reduced sodium chicken broth 250 mL
1/2 tsp dried thyme leaves 2 mL
1/4 tsp salt 1 mL
1/4 tsp black pepper 1 mL
Instructions
1, In a large skillet heat 1 Tbsp (15 mL) canola oil and heat over medium-high heat. Add chicken and brown for 3 minutes on each side. Set aside on separate plate.
2. Reduce heat to medium and add remaining 1 Tbsp (15 mL) canola oil, onions and garlic and cook for 3 minutes or until onions are translucent, stirring frequently. Set aside with chicken.
3. Stir flour into pan residue in skillet and cook 2 minutes over medium heat or until beginning to lightly brown, stirring constantly. Stir in broth, thyme, salt and pepper. Add chicken, onions and any accumulated juices. Bring to a boil over medium-high heat. Reduce heat to medium-low, cover and simmer for 30 minutes or until chicken is almost tender.
4. Place chicken to one side of skillet, add and mash garlic cloves with back of a spoon. Combine chicken and garlic and turn chicken pieces over several times or until well coated. Cover and cook 5-7 minutes or until chicken is tender.
Tip: Serve over hot cooked rice, egg noodles or mashed potatoes, if desired (2 cups or 500 mL total).
Yield
4 servings
serving size
3 oz (90 g) cooked chicken and about 3 Tbsp (45 mL) sauce
nutritional analysis
Per Serving
Calories
180
Total Fat
9 g
Saturated Fat
1.5 g
Cholesterol
80 mg
Carbohydrates
8 g
Fiber
1 g
Sugars
1 g
Protein
18 g
Sodium
340 mg