Carrot Cake
Serve this delicious cake topped with a creamy cream cheese frosting at your next family gathering.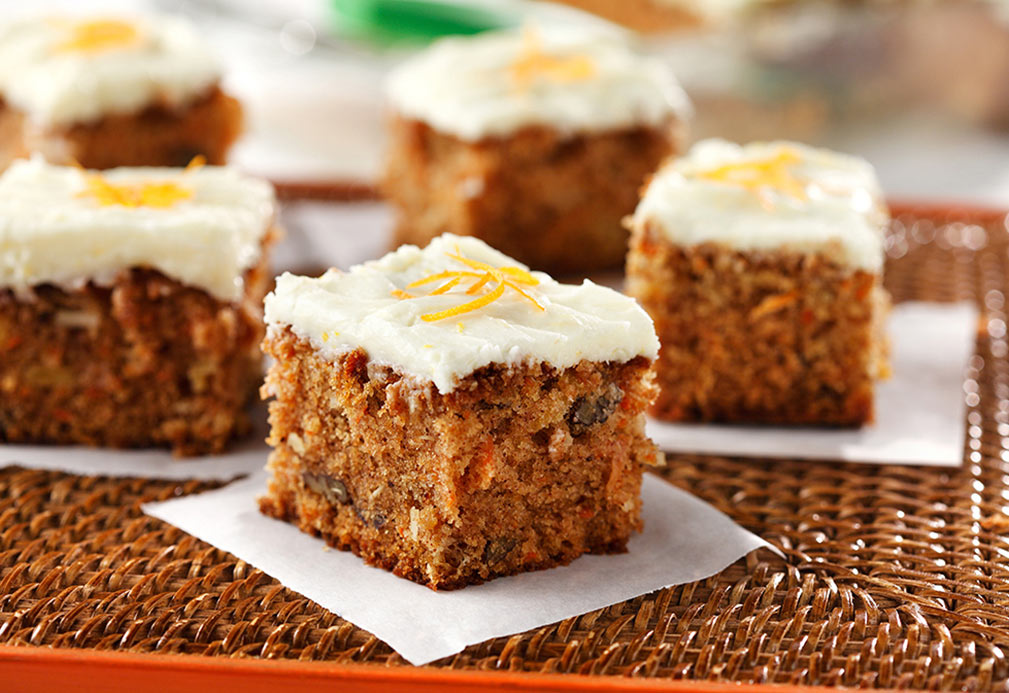 Ingredients
canola oil cooking spray
1 cup granulated sugar 250 mL
1/2 cup canola oil 125 mL
1/2 cup applesauce 125 mL
3 eggs
1 1/2 cups grated carrot 375 mL
1/2 cup walnut pieces 125 mL
1 1/2 cups all purpose flour 375 mL
1 1/2 tsp baking powder 7 mL
1 1/2 tsp baking soda 7 mL
1 1/2 tsp ground cinnamon 7 mL
1/2 tsp salt 2 mL
1/3 cup non-hydrogenated canola margarine 75 mL
1 (4oz/125g) pkg cream cheese, softened
2 cups icing sugar 500 mL
1 tsp vanilla 5 mL
1 Tbsp orange juice 15 mL
1 tsp grated orange peel 5 mL
Instructions
1. Preheat oven to 350°F (180°C). Spray a 13 x 9 inch (3.5 L) rectangular pan with cooking spray.
2. In smaller bowl, whisk sugar, canola oil, applesauce and eggs until smooth. Stir in grated carrot and walnuts.
3. In large mixing bowl, combine flour, baking powder, baking soda, cinnamon and salt.
4. Stir liquid mixture into flour mixture, and mix just until flour is moistened. Spread batter in prepared pan. Bake 30 to 35 minutes or until wooden pick inserted in center comes out clean. Cool cake in pan set on wire rack.
5. For frosting, cream margarine and cream cheese together. Adding icing sugar, vanilla and enough orange juice to make a fairly stiff icing.
6. Ice cake and sprinkle with orange peel. Chill to set icing.
Yield
16 servings
serving size
1 serving
nutritional analysis
Per Serving
Calories
206
Total Fat
9 g
Saturated Fat
1 g
Cholesterol
34 mg
Carbohydrates
29 g
Fiber
1 g
Protein
3 g
Sodium
253 mg