Cheddar Parmesan Poutine
These French fries are a playful spin on a Quebecois favorite - lightened up with canola oil. Traditionally made with cheese curds, poutine in this recipe features cheddar and Parmesan instead for sharper flavors.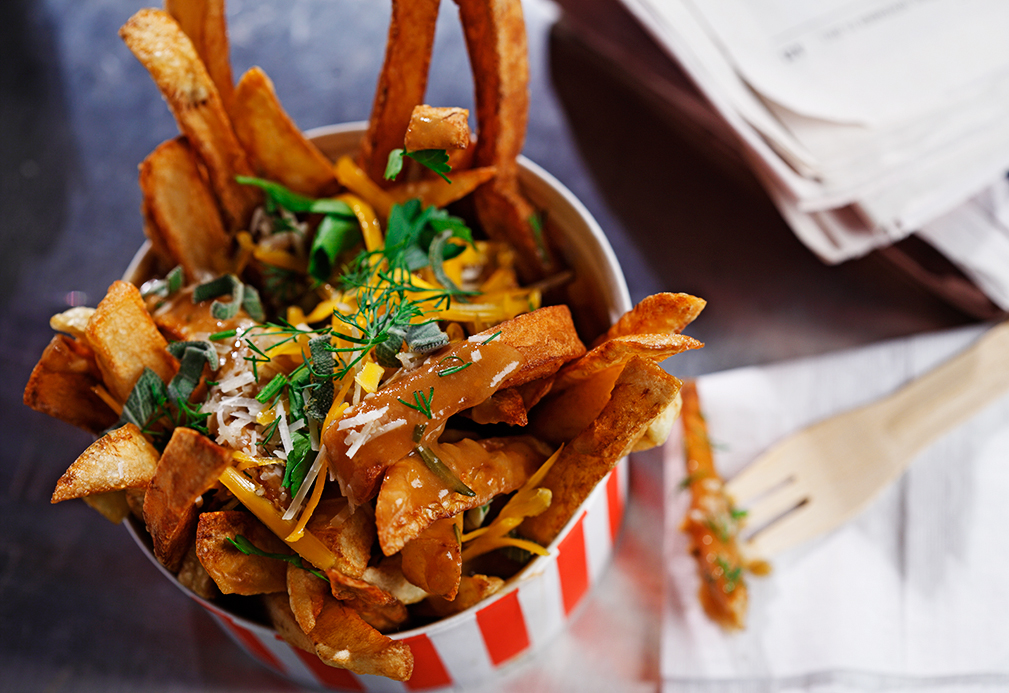 Ingredients
4 Russet potatoes, peeled and sliced into uniform sticks
1 cup sharp cheddar cheese, grated 250 mL
1 cup grana padano cheese or Parmesan, grated  250 mL
2 cups poutine gravy (see recipe below) 500 mL
3 Tbsp chopped fresh dill 45 mL
3 Tbsp chopped fresh flat leaf parsley 45 mL
3 Tbsp chopped fresh sage 45 mL
5 cups canola oil 1.25 L
1/4 tsp salt 1 mL
1/4 tsp pepper 1 mL
2 cups poutine gravy (recipe below)
Poutine Gravy:
3/4 cup diced yellow onion 175 mL
2 Tbsp diced carrot 30 mL
2 Tbsp diced celery 30 mL
2/3 cup canola oil 150 mL
1 Tbsp chopped sage 15 mL
1/2 tsp tomato paste 2 mL
1/3 cup all-purpose flour 75 mL
4 cups beef stock 1 L
1 Tbsp Worcestershire sauce 15 mL
1 tsp chopped garlic 5 mL
1 Tbsp chopped rosemary 15 mL
1 tsp salt 5 mL
1/2 tsp pepper 2 mL
Instructions
1. Soak cut up potatoes in cold water overnight. Before deep-frying, remove potatoes from water and pat dry.
2. Using deep-fryer, heat canola oil to 375 °F (190 °C). Deep-fry for 8-10 minutes or until lightly golden. Remove fries from fryer and drain on paper towels.
3. If necessary, in saucepan, reheat 2 cups (500 mL) poutine gravy (recipe below) and set aside.
4. Return fries to deep-fryer and fry for additional 3-5 minutes or until golden brown. Remove from fryer to stainless steel bowl. Add gravy, cheese and herbs. Stir gently to combine. Season with salt and pepper. Serve. 
Poutine Gravy:
1. In large saucepan, sweat onion, carrot and celery in canola oil over medium heat until they are slightly caramelized. Stir frequently. Add sage and tomato paste and sauté for 1-2 minutes.
2. Sprinkle vegetable mixture with flour and combine to form roux. Heat for about 30 seconds. Add stock, Worcestershire sauce and garlic. Simmer for 35 minutes.
3. Season with rosemary, salt and pepper. Simmer for additional 10 minutes.
4. Using immersion blender, purée gravy. Leftover gravy can be frozen for future use.
Yield
4 servings
serving size
1½ cups (325 mL) poutine
nutritional analysis
Per Serving including 1/2 cup (125 mL) of gravy
Calories
600
Total Fat
46 g
Saturated Fat
8 g
Cholesterol
25 mg
Carbohydrates
33 g
Fiber
3 g
Sugars
4 g
Protein
20 g
Sodium
1080 mg
Potassium
225 mg