Chewy Cinnamon Oat Cookie
A chewy cookie that is easy to make and delectable.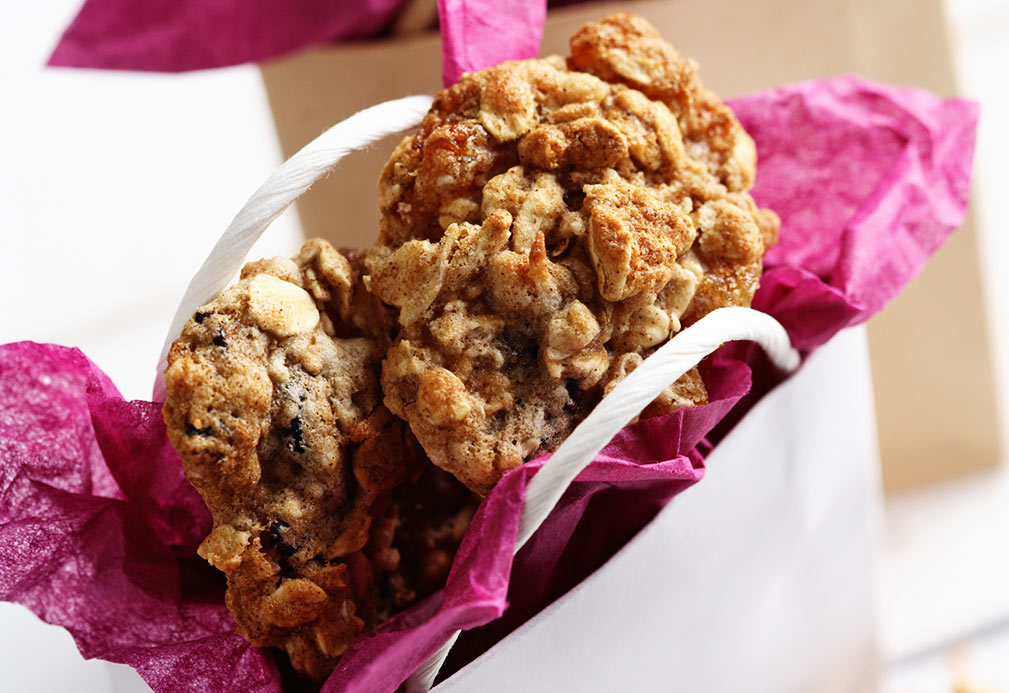 Ingredients
1/3 cup granulated sugar 75 mL
1/4 cup packed dark brown sugar 60 mL
3 Tbsp canola oil 45 mL
1 large egg
1 tsp vanilla extract 5 mL
1 1/4 cups rolled oats 300 mL
1/3 cup all purpose flour 75 mL
1/2 tsp baking soda 2 mL
1 1/2 tsp ground cinnamon 7 mL
1/8 tsp salt 0.5 mL
1 cup golden raisin and dried cherry blend 250 mL (or 2/3 cup (150 mL) golden raisins and 1/3 cup (75 mL) dried cherries or cranberries)
1/3 cup sweetened flaked coconut 75 mL
Instructions
1. Preheat oven 375 °F (190 °C).
2. In medium mixing bowl, combine granulated sugar, brown sugar and the oil. Using an electric mixer on medium high speed, beat until well blended, about 30 seconds. (The mixture will have a grainy texture at this stage.) Add egg and vanilla; beat until well blended. Add oats, flour, baking soda, cinnamon and salt and beat until blended. Add raisin mixture and coconut and beat until blended.
3. Line two cookie sheets with parchment paper. Using a teaspoon measure, spoon teaspoons of dough onto cookie sheet 2 inches apart. Bake 5 minutes or until puffy and slightly golden on edges. Do NOT bake longer, they will not look done when removed from oven. Place cookie sheet on wire rack and let stand 3 minutes. Carefully remove paper and cookies from cookie sheet and set aside to cool completely (ON parchment paper.) Repeat with remaining cookie dough. Store completely cooled leftovers in an airtight container at room temperature.
Yield
48 cookies
serving size
1 cookie
nutritional analysis
Per Serving
Calories
60
Total Fat
1.5 g
Saturated Fat
0 g
Cholesterol
5 mg
Carbohydrates
10 g
Fiber
<1 g
Protein
1 g
Sodium
30 mg