Chicken in Peanut Sauce
Three different chilies amp up the flavor in this delicious peanut sauce. Canola oil provides healthy monounsaturated fat plus a neutral taste that lets the other ingredients shine. Enjoy the chicken with rice and tortillas for a complete dish.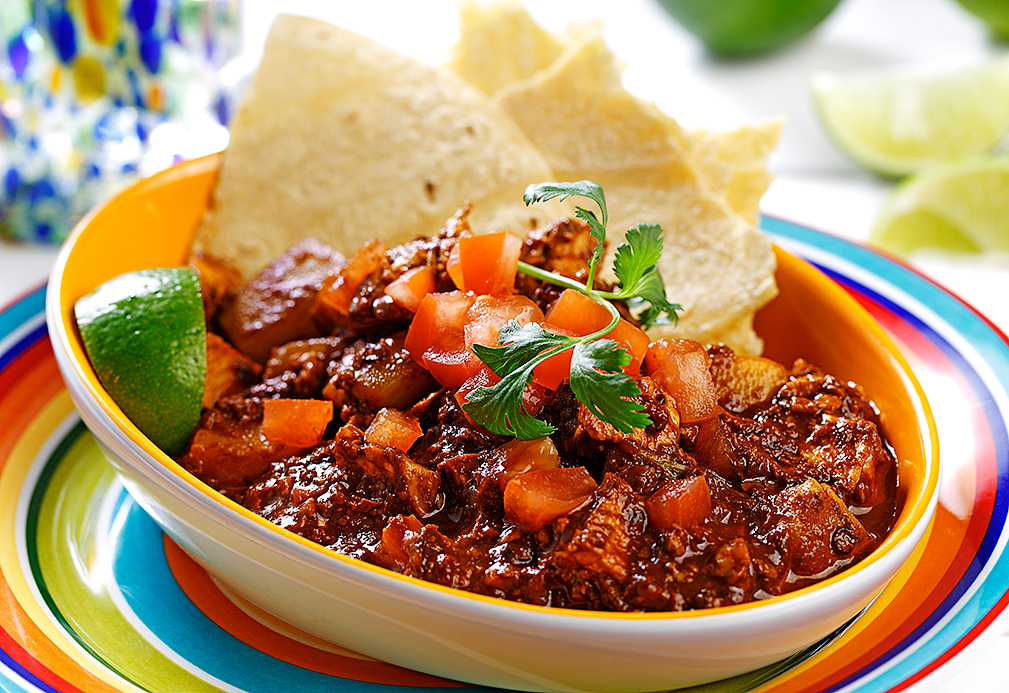 Ingredients
4 cups hot water 1 L
2 lb whole chicken breasts, boneless, skinless 1 kg
2 bay leaves
1 clove garlic
1 tsp whole black peppercorns 5 mL
1/2 tsp salt 2 mL
Peanut Sauce:
5 ancho chiles
3 pasilla chiles
1 tomato
1 tomatillo
1 tsp canola oil 5mL
1 Tbsp canola oil 15 mL
2 cups unsalted peanuts 500 mL
4 cloves garlic, minced
1/4 cup chopped onion 60 mL
2 chipotle chiles canned in adobo sauce
1 tsp salt 5 mL
2 chayotes, peeled and diced
1 medium potato, peeled and diced
Instructions
1.In medium pot, add water, chicken breasts, bay leaves, garlic, black peppercorns and salt. Bring to a boil. Reduce heat and simmer 20 minutes. Remove chicken, cool and cube. Set aside. Discard bay leaf and peppercorns from stock. Reserve stock for peanut sauce.
2.Meanwhile, soak dried chiles in hot water for 15 minutes. Devein and chop. Discard soaking water.
3.Preheat oven to 350 °F (180 °C). On parchment-lined baking pan, brush tomato and tomatillo with 1 tsp (5 mL) canola oil. Roast 15 minutes. Cool and discard seeds and any tomato skin that comes loose. Set aside.
4.In frying pan, add 1 Tbsp (15 mL) canola oil and lightly sauté peanuts, garlic and onion. Add to food processor with roasted tomato, tomatillo, all chiles and reserved chicken stock. Season with salt. Blend until thick and smooth.
5.Meanwhile, in small pot, cook chayotes and potato in hot salted water until tender. Drain and rinse.
6.In skillet, combine sauce, chicken, chayote and potato and continue cooking until hot.
Yield
6 servings.
serving size
2 cups (500 mL).
nutritional analysis
| | |
| --- | --- |
| Calories | 590 |