Chicken Mole de Olla
This dish is a favorite on Mexican tables everywhere. Using heart-smart canola oil, along with a variety of fresh vegetables and lean chicken, helps turn the traditional recipe into a healthy one, too.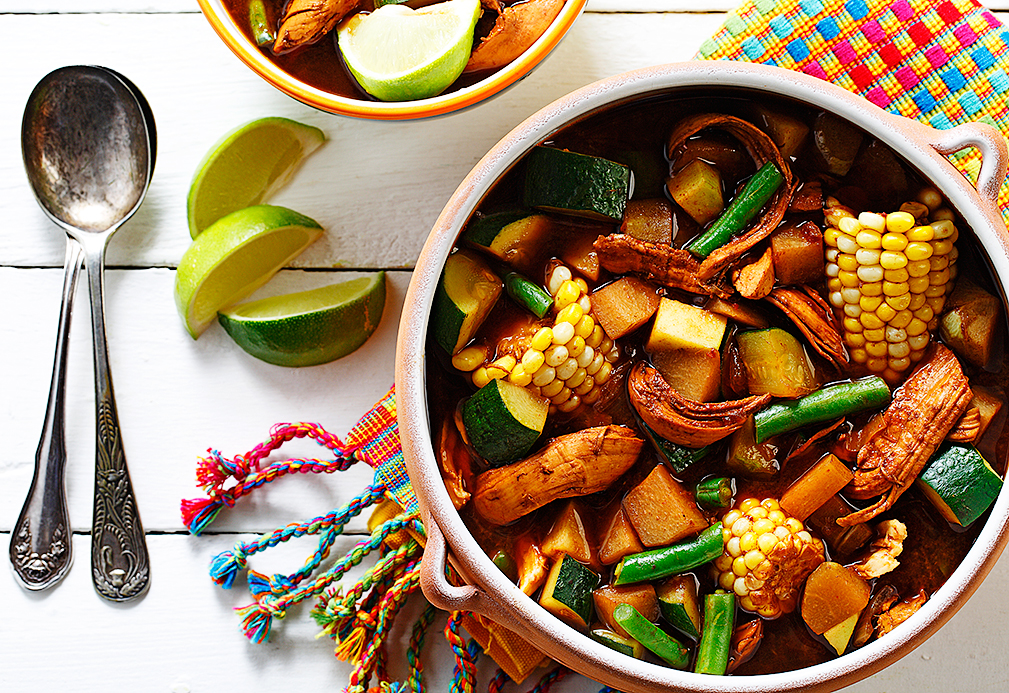 Ingredients
10 cups water 2.5 L
1 lb skinless chicken breast 500 g
2 ears of corn, each cut into 4 segments
1/4 cup diced onion 60 mL
1 clove garlic
2 bay leaves
1 tsp salt
5 whole black peppercorns
Mole:
4 ancho chiles
1 Tbsp canola oil 15 mL
1 clove of garlic
1/2 cup diced onion 125 mL
2 xoconostle prickly pears, peeled, seeded and chopped
1 cup sliced fresh green beans 250 mL
2 chayotes, peeled and chopped
2 zucchinis, diced
2 limes, cut into wedges
Instructions
1. In large pot, add water, chicken breast, corn, onion, garlic, bay leaves, salt and peppercorns. Bring to a boil. Reduce heat and simmer 15 minutes. Remove chicken, allow chicken to cool and shred using two forks. Set aside. Discard bay leaves and peppercorns from stock and set stock aside.
2. Meanwhile, soak ancho chiles in hot water for 15 minutes. Devein and chop. Discard soaking water.
3. To make mole: In skillet, heat canola oil over medium heat and sauté chiles, garlic, onion and xoconostles, until xoconostles soften. To food processor, add sautéed mixture with 1/4 cup (60 mL) reserved chicken stock and blend to make paste.
4. To remaining reserved chicken stock, add mole, green beans and chayotes. Cover and simmer 20-25 minutes or until chayotes are tender.
5. Add shredded chicken and zucchini. Cook 5 minutes or until zucchini is tender. Serve with lime wedges.
Yield
9 servings.
serving size
2 cups (500 mL).
nutritional analysis
| | |
| --- | --- |
| Calories | 160 |