Chicken Thighs With Honeyed Apples and Fresh Sage
This chunky flavorful sauce makes a great addition to this simple skillet dish.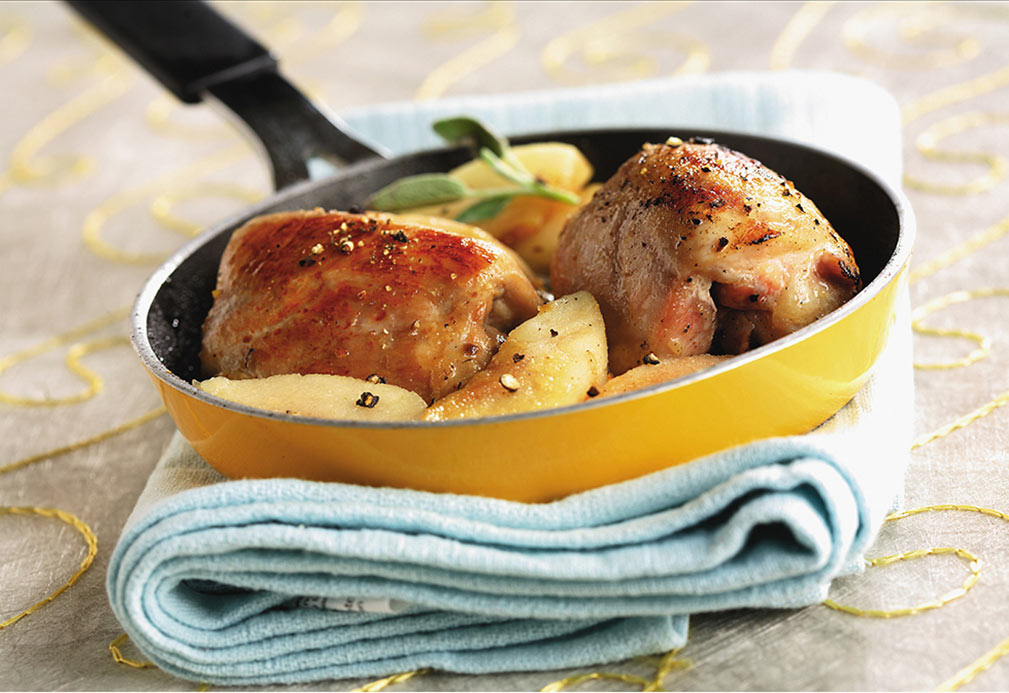 Ingredients
3 lbs boneless, skinless, chicken thighs 1.5g
salt and pepper to taste
3 Tbsp canola oil 45 mL
3 Tbsp honey 45 mL
2 apples, peeled, cored and cut into 1/2 inch (1 cm) thick wedges
1/2 cup chopped shallots 125 mL
1/4 cup chicken broth 60 mL
1/2 cup apple cider 125 mL
2 sprigs fresh sage
Instructions
1. Sprinkle chicken thighs with salt and pepper. Heat canola oil, in large frying pan, over medium heat. Cook chicken about 8 to 10 minutes, turning over once. Transfer chicken to a plate.
2. Add honey, apples and shallots to the pan and cook over medium heat, stirring occasionally, until apples are browned, about 5 minutes. Add broth, cider, sage and de-glaze the pan by boiling and scraping up any brown bits, for 1 minute. Return chicken to the pan. Reduce heat and simmer, covered, until chicken is cooked through about 15 minutes.
3. Remove chicken thighs and keep warm. Boil sauce for a few minutes until sauce is slightly reduced. Place chicken pieces on platter, garnish with fresh sage. Pour sauce into serving dish and pass with chicken.
Yield
8 servings
serving size
nutritional analysis
Per Serving
Calories
350
Total Fat
17 g
Saturated Fat
3.5 g
Cholesterol
115 mg
Carbohydrates
16 g
Fiber
<1 g
Protein
32 g
Sodium
150 mg