Chicken with Lime, Garlic and Cashews
"Aside from the heart-healthy benefits of canola oil, I love using it in a marinade because of its mild, almost neutral flavor. Canola oil allows the flavors of the lime, garlic and soy sauce to come through in this recipe. The mild taste of canola oil makes it great in a salad dressing too, when you want to taste the ingredients and not the oil."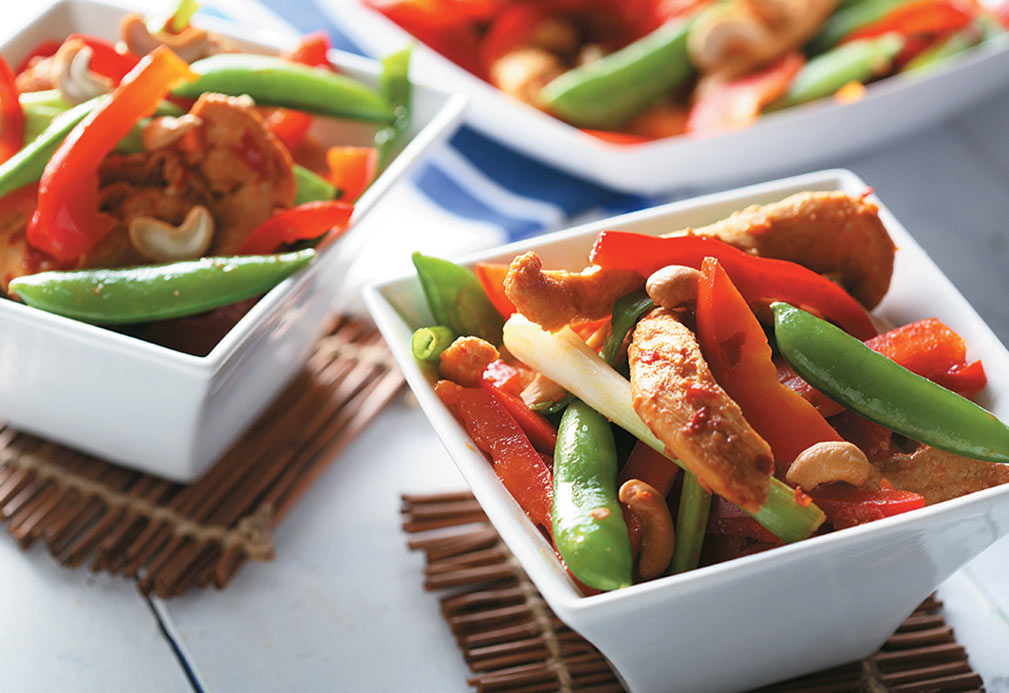 Ingredients
1 boneless, skinless chicken breast (7 oz/200g) 1
4 cloves garlic, minced
2 Tbsp sodium reduced soy sauce 30 mL
2 Tbsp garlic chili sauce 30 mL
2 tsp canola oil 10 mL
2 tsp fresh lime juice 10 mL
2 large red peppers, thinly sliced
1 cup snap or snow peas 250 mL
6 green onions, chopped into 4-inch (10-cm) pieces
1/4 cup unsalted cashews, chopped coarsely 60 mL
Instructions
1. Slice the chicken into 1/4-inch (5-mm) slices. For easier slicing, place chicken in freezer 20 minutes to firm.
2. In resealable plastic bag, mix together garlic, soy sauce, chili sauce, 1 tsp (5 mL) canola oil and lime juice. Add sliced chicken. Marinate in refrigerator 20 minutes to 12 hours.
3. When chicken is marinated, heat medium frying pan over medium heat. Add 1 tsp (5 mL) canola oil and red peppers. Sauté for 1 minute. Remove peppers from pan and set aside on a plate.
4. Add chicken with marinade to frying pan. Stir-fry chicken 4 minutes. Return red peppers to pan and continue cooking 1 minute. Add snow peas and green onions and cook 2 minutes. Sprinkle with cashews and stir-fry 1 minute. Serve.
Yield
4 servings
serving size
3/4 cup (175 mL)
nutritional analysis
Per Serving
Calories
190
Total Fat
8 g
Saturated Fat
1.5 g
Cholesterol
30 mg
Carbohydrates
17 g
Fiber
3 g
Protein
15 g
Sodium
300 mg