Chiffon Celebration Cake
Recipe developed at The Culinary Institute of America by Chef Instructor Brenda La Noue. See Chef Stephen Durfee prepare the recipe in the video below.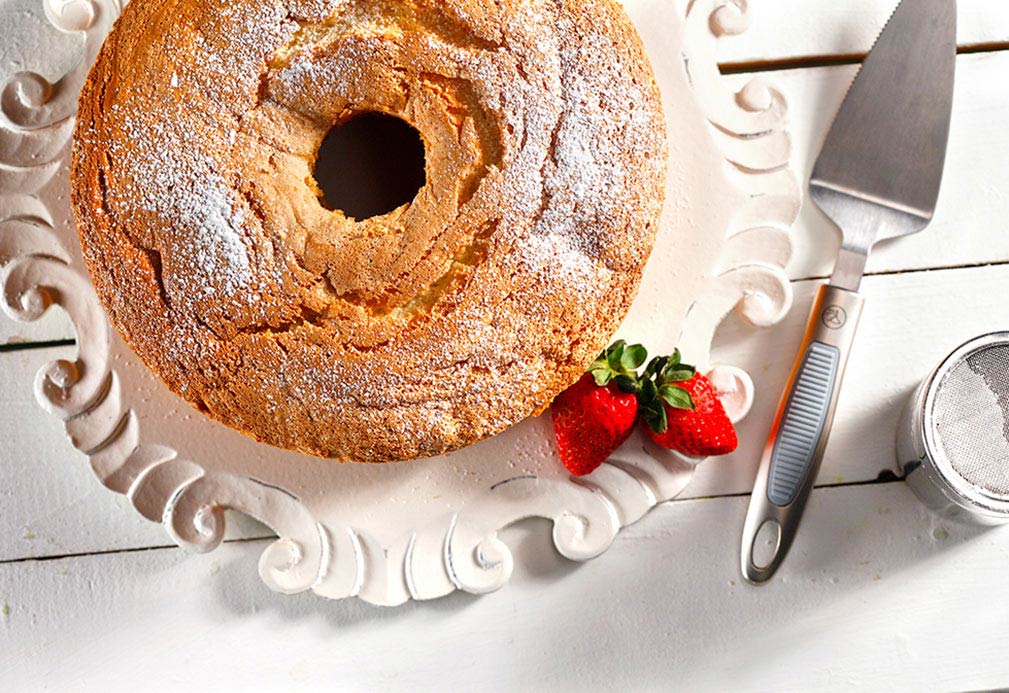 Ingredients
canola oil cooking spray
2/3 cup canola oil 150 mL
8 egg yolks
1 cup water 250 mL
1 Tbsp vanilla extract 15 mL
3 cups cake flour 750 mL
1 cup sugar 250 mL
4 tsp baking powder 20 mL
1 tsp salt 5 mL
8 egg whites
1 cup sugar 250 mL
Instructions
1. Preheat a convection oven to 325ºF (160ºC). Lightly spray a 3 x 8 inch (7.5 x 20 cm) or 2 x 10 inch (5 x 25 cm) tube pan with canola oil cooking spray and flour the sides of pan.
2. In a bowl, whisk canola oil and egg yolks until combined. Add water and vanilla extract.
3. In mixer bowl, sift together flour, sugar, baking powder, and salt. Place bowl on electric mixer.  Add egg yolk mixture and beat gently just to combine. Scrape down bowl. Beat at high speed for 20 seconds to fully aerate. Remove from mixer machine and scrape down bowl. Set aside.
4. In another mixer bowl, whip egg whites to a foam. Slowly sift in second measure of sugar and whip to firm peaks. Gently fold meringue into reserved batter. Transfer to prepared tube pan.
5. Bake for about 45 to 50 minutes, or until a knife inserted in the cake comes out clean.
6. Cool in pan for 10 minutes. Remove from pan and cool thoroughly. Serve with fresh fruit or a berry sauce and whipped cream.
Yield
8 slices
serving size
1 slice
nutritional analysis
Per Serving
Calories
90
Total Fat
7 g
Saturated Fat
0.5 g
Cholesterol
0 mg
Carbohydrates
5 g
Fiber
2 g
Sugars
2 g
Protein
2 g
Sodium
125 mg
Potassium
265 mg