Chili Roasted Root Vegetables
Roasting vegetables in a little canola oil brings out new depths of flavor.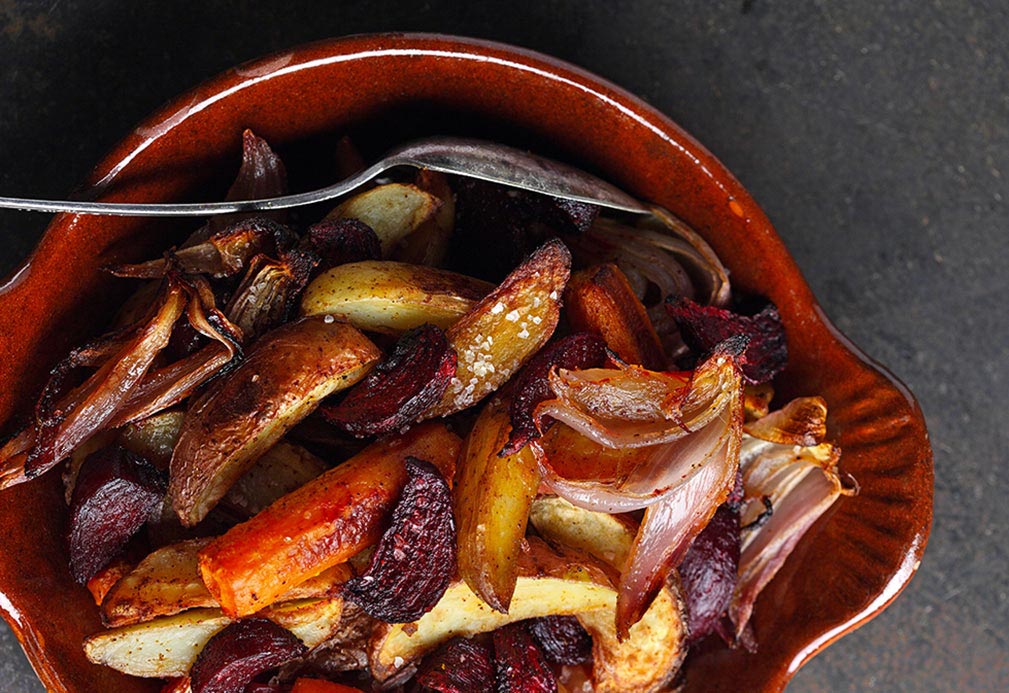 Ingredients
3 medium beets, trimmed, peeled and cut into 1/2 inch (1.25 cm) wedges
3 medium carrots, peeled and cut into 3 inch (7.5 cm) pieces (cut thicker pieces in half lengthwise)
4 medium new potatoes, about 1 1/2 oz/45 g each, cut into 1/2 inch 1.25 cm wedges
1 medium to large yellow or red onion, cut into 1/2-inch 1.25 cm wedges
3 Tbsp canola oil, 45 mL
1 tsp garlic powder 5 mL
1 Tbsp chili powder 15 mL
1/2 tsp salt 2 mL
Instructions
1. Preheat oven to 425 °F (220 °C). Line large baking sheet with aluminum foil.
2. In large bowl, combine all ingredients, except salt. Toss until well coated. Place on baking sheet in single layer and bake 30 minutes, stirring and turning every 10 minutes or until richly browned. Remove from oven and sprinkle with salt.
Yield
10 servings
serving size
1/2 cup (125 mL)
nutritional analysis
Per Serving
Calories
150
Total Fat
5 g
Saturated Fat
0 g
Cholesterol
0 mg
Carbohydrates
25 g
Fiber
3 g
Protein
3 g
Sodium
160 mg