Cranberry Lentil Soup
Delicious hot or cold, this soup features aromatic spices which add loads of flavor without excess calories. Canola oil's light flavor lets them come to the fore.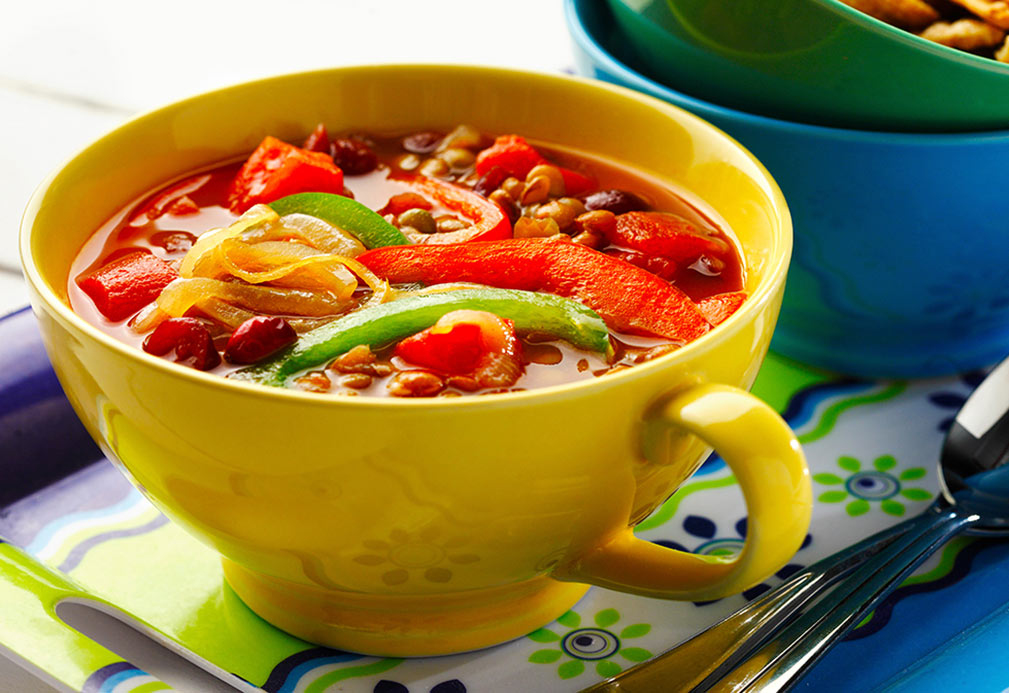 Ingredients
1½ cups dried green, black or brown lentils sorted for stones 375 mL
10 cups vegetable stock or water 2.5 L
1 cup dried cranberries 250 mL                                            
1 large onion, cut in half lengthwise and thinly sliced
1 green pepper, cut in half lengthwise and thinly sliced
1 red pepper, cut in half lengthwise and thinly sliced
2 Tbsp canola oil 30 mL
2 cups diced tomatoes 500 mL
1/2 tsp cinnamon 2 mL
1/4 tsp ground cardamom 1 mL
1/4 tsp cayenne pepper 1 mL
1 Tbsp paprika 15mL
1 tsp salt 5 mL
2 Tbsp finely chopped fresh parsley 25 mL
Instructions
1. Rinse lentils in fine mesh strainer. In medium saucepan, bring water or stock to boil. Add lentils. Reduce heat and simmer, covered, for 15 minutes. Add cranberries and simmer for another 10 minutes.  
2. In large skillet over medium-high heat, sauté onions and peppers in canola oil. Cook about 5 minutes or until just softened. 
3. Add tomatoes, cinnamon, cardamom, cayenne, paprika and salt. Cover, reduce heat to low, and cook 8 minutes or until tender.  
4. Stir vegetables into cooked lentils and simmer for 5 minutes. Sprinkle each serving with parsley.
Cook's Tips: Feel free to replace the cranberries with any available chopped dried fruit, such as pineapple, apricot, currants or mango. If using vegetable stock that contains salt, omit salt from recipe.
Yield
12 servings
serving size
1¼ cup (300 mL)
nutritional analysis
Per Serving
Calories
160
Total Fat
3 g
Saturated Fat
0 g
Cholesterol
0 mg
Carbohydrates
28 g
Fiber
6 g
Protein
6 g
Sodium
320 mg