Creamy Chicken Meatball Alphabet Soup
This soup makes a great, stick-to-your-ribs lunch! Making your own soup allows you to experiment with flavors and tailor the ingredients to your family's likes.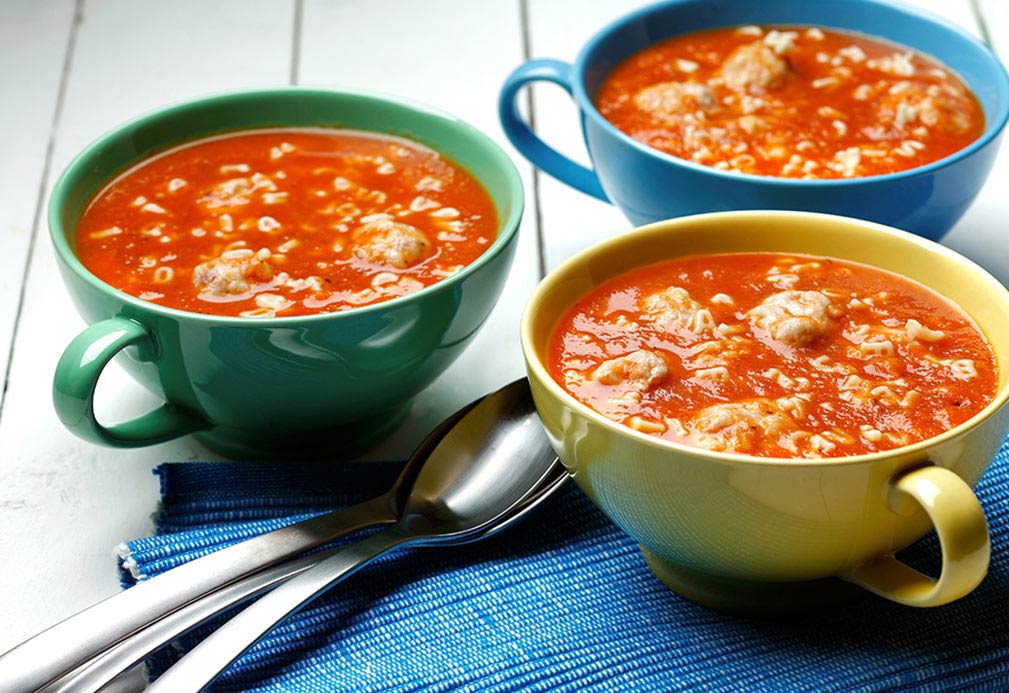 Ingredients
2 Tbsp canola mayonnaise 30 mL
2 Tbsp bread crumbs 30 mL
2 Tbsp grated Parmesan cheese 30 mL
1/4 tsp garlic powder 1 mL
1/2 lb lean ground chicken 250 g
3/4 cup alphabet pasta 175 mL
2 Tbsp canola oil 30 mL
1 cup chopped onion 250 mL
1 cup chopped celery 250 mL
1 cup chopped carrots 250 mL
2 garlic cloves, minced
8 cups reduced-sodium chicken broth 2 L
1 can (28 oz / 796 mL) diced tomatoes, undrained
1 can (6 oz / 170 mL) tomato paste
2 tsp Italian spice 10 mL
Instructions
1. Preheat oven to 350 °F (180 °C).
2. In bowl, combine canola mayonnaise, bread crumbs, Parmesan cheese, garlic powder and chicken; mix well. Shape into bite-size balls and arrange in 9 x 13-inch (22 x 33-cm) baking dish. Bake meatballs in oven for about 20 to 25 minutes or until cooked through. Meanwhile, cook pasta according to package directions, rinse, drain and set aside.
3. In large saucepan, heat canola oil and sauté onion, celery and carrots for about 5 minutes or until crisp-tender. Add garlic; sauté for 1 minute longer. Add broth, tomatoes, tomato paste and Italian spice; bring to boil. Reduce heat and simmer, for 15-20 minutes or until vegetables are tender. With hand blender or food processor, blend soup until smooth. Add pasta and meatballs. Reheat and serve.
Yield
8 servings
serving size
1 1/2 cups (375 mL)
nutritional analysis
Per Serving
Calories
210
Total Fat
7 g
Saturated Fat
1.5 g
Cholesterol
25 mg
Carbohydrates
25 g
Fiber
3 g
Protein
12 g
Sodium
330 mg