Crunchy Wild Rice Salad with Blackberry Dressing
Prepare the wild rice up to 2 days in advance to make quick work of this gorgeous salad. A perfect accompaniment to any grilled or roasted meat, also a lovely side in a packed lunch. Serve warm or cold.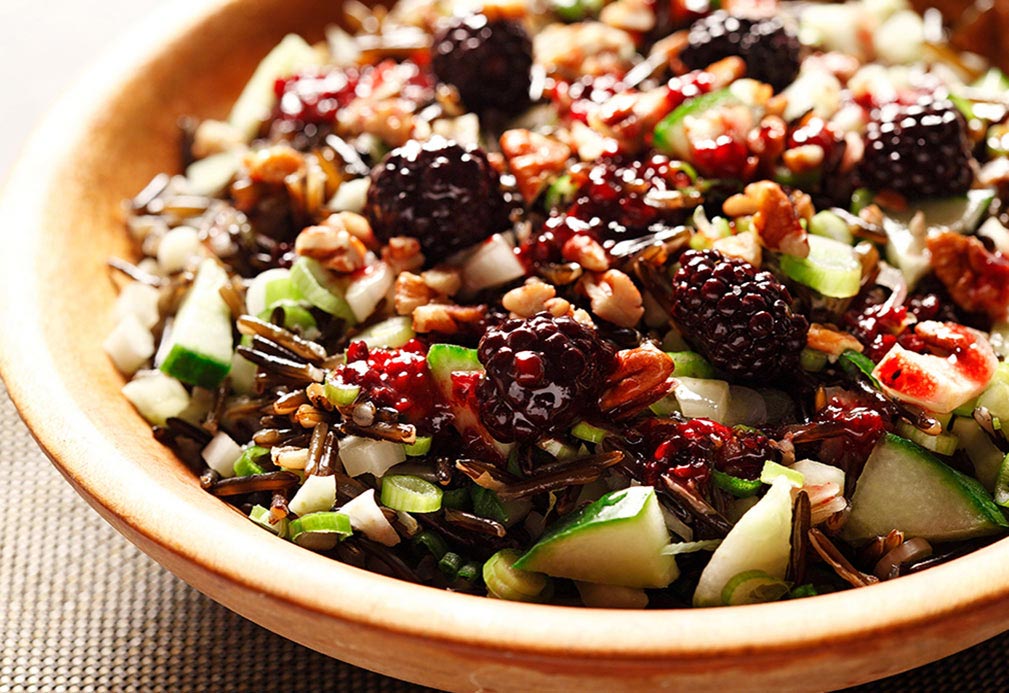 Ingredients
½ cup wild rice 125 mL
2 cups water 500 mL
½ cup celery, diced 125 mL
½ cup cucumber, diced 125 mL
¼ cup green onion, chopped 60 mL
½ cup fresh or frozen blackberries, divided 125 mL
3 Tbsp red wine vinegar 45 mL
1 ½ Tbsp canola oil 20 mL
2 tsp granulated sugar 10 mL
¼ tsp freshly ground pepper 1 mL
¼ cup toasted pecans, chopped 60 mL 
Instructions
1. In a large saucepan, combine rice and water. Bring to a boil, cover, reduce heat and simmer for 60 minutes. Remove from heat with lid still on and allow to stand for 30-60 minutes until desired texture is achieved. Drain and cool.
2. In a large bowl, combine rice, celery, cucumber and green onion.
3. Prepare dressing: Whisk well or use blender to combine ¼ cup of the blackberries, red wine vinegar, canola oil, sugar and pepper.
4. When ready to serve, in a large bowl or individual plates, place rice mixture on bottom, sprinkle with remaining ¼ cup blackberries, pecans and drizzle with dressing.
Yield
6 servings
serving size
½ cup (125 mL)
nutritional analysis
Per Serving
Calories
130
Total Fat
7 g
Saturated Fat
0.5 g
Cholesterol
0 mg
Carbohydrates
16 g
Fiber
2 g
Sugars
3 g
Protein
3 g
Sodium
10 mg
Potassium
135 mg