Curried Sweet Potato and Peanut Stew
This stew is perfect year-round, although it's most appreciated on a cold winter night!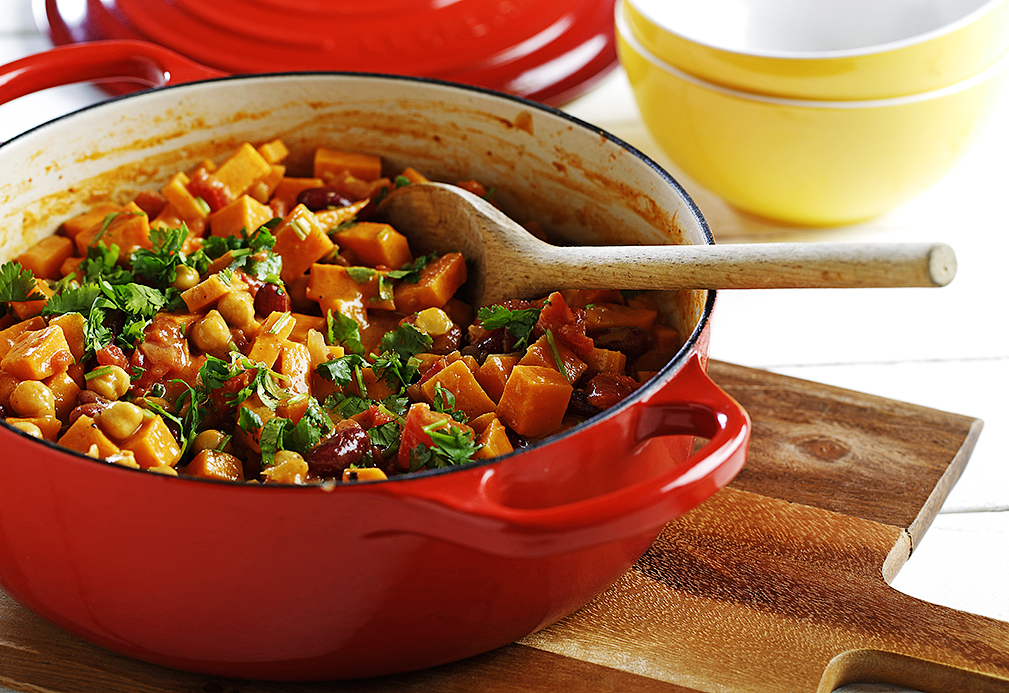 Ingredients
1 Tbsp canola oil 15 mL
1 cup diced onion 250 mL
3 medium sweet potatoes (1 lb/500 g), peeled and cut into 1/2-inch cubes
1/2 of (15.5 oz/439 g) can chickpeas, rinsed and drained 
1/2 of (16 oz/455 g) can dark kidney beans, rinsed and drained 
1 can (14.5 oz/411 g) diced tomatoes
1 can (14 oz/400 g) vegetable broth
3 Tbsp reduced-fat peanut butter 45 mL
1 1/2 tsp granulated sugar 7 mL
1 1/2 tsp ground cumin 7 mL
1/2 tsp curry powder or ground cinnamon 2 mL
1/4 tsp black pepper 1 mL
1/8 tsp cayenne pepper .5 mL
1/4 cup chopped fresh cilantro leaves 60 mL
Instructions
1. Heat canola oil in a Dutch oven over medium-high heat. Add onions and cook 6 minutes or until they are richly browned, stirring frequently.
2. Add potatoes and cook 2 minutes. Add remaining ingredients, except cilantro, and bring to a boil over high heat. Reduce heat, cover, and simmer 25-30 minutes or until potatoes are very tender. Spoon into bowls and serve topped with cilantro.
Flavorful tip: Be sure to cook the onions the full 6 minutes to ensure rich, brown results.
Yield
4 servings
serving size
1 1/3 cups (325 mL)
nutritional analysis
Per Serving
Calories
335
Total Fat
9 g
Saturated Fat
1.2 g
Cholesterol
0 mg
Carbohydrates
52 g
Fiber
10 g
Protein
12 g
Sodium
805 mg