Dark Chocolate Pate with Chili Infusion Canola Oil
A good diet can include delicious desserts. We suggest this chocolate mousse with a chili infusion made with canola oil. In this recipe, canola oil proves its versatility by creating a balance between the ingredients. Canola oil has a neutral flavor that allows the chocolate and chili to really stand out!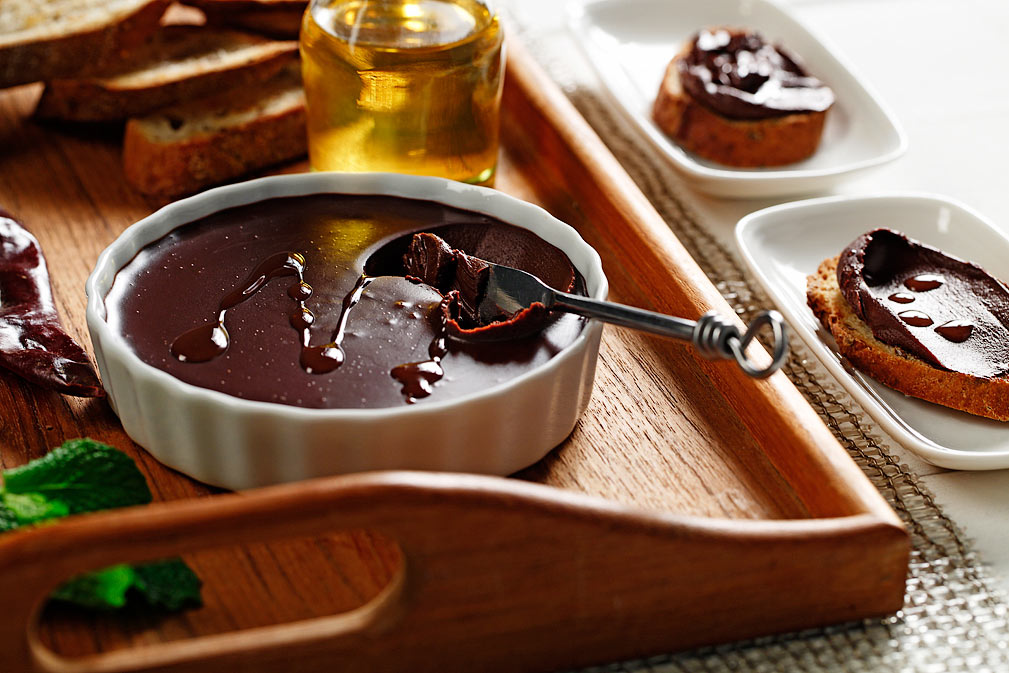 Ingredients
Dark Chocolate Pate:
1 cup dark chocolate, grated 3 oz
1/2 cup half and half cream 125 mL
1 tsp vanilla extract 5 mL
Chili Infused Canola Oil:
¼ cup canola oil 60 mL
1 Tbsp Guajillo chili, chopped 15 mL
1 Ancho chili, chopped
1 baguette (about 18 inches/45 cm long)
1/3 tsp sea salt 1.5 mL
Instructions
1. Preheat oven to 350°F (180 ºC).
2. Add 2 cups (500 mL) water to the bottom saucepan of a double boiler and bring to a boil. Place grated chocolate in top part of a double boiler and place it on top of saucepan to melt chocolate using indirect heat.
3. Once melted, add cream and vanilla extract. Mix until smooth. Remove from heat and let cool. Place in small serving dish. Refrigerate for 1 hour.
4. In a small pan, heat canola oil. Add chilies and cook for 2 minutes. Remove from heat and cool. Strain out chilis.
5. Cut baguette into thin slices. Place them on a baking sheet and brush them with infused canola oil. Sprinkle with sea salt and bake until slices are crispy. Reserve unused oil.
6. Drizzle chocolate pate with infused canola oil and serve with baguette toasts.
Yield
6 servings
serving size
6 Tbsp (90 mL)
nutritional analysis
| | |
| --- | --- |
| Calories | 270 |