Protein Powered Hummus
It's always fun to sneak in a secret ingredient - this one is an egg! Protein satisfies a hungry bunch and this twist on an old favorite is a perfect way to do it. Serve hummus with crispy bread or raw veggies for an easy lunch. Canola oil's neutral flavor lets the lively tastes of cilantro, chipotle chili and cumin step to the fore.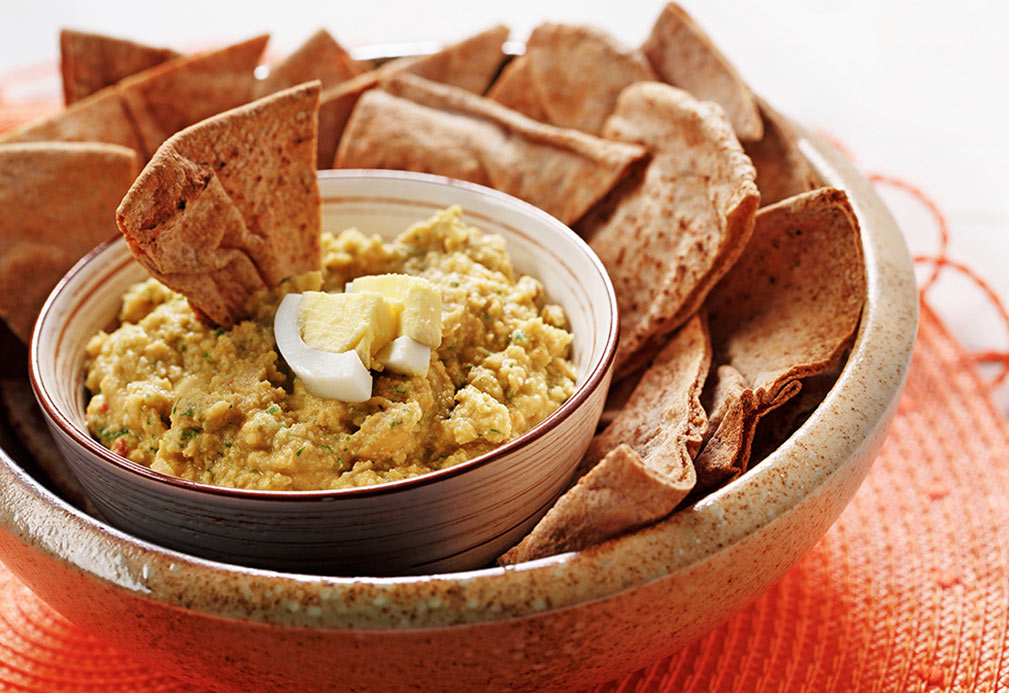 Ingredients
1 can (15-oz/426 mL) no salt added chickpeas, rinsed and drained
4 large hard-boiled eggs, divided
3 Tbsp canola oil 45 mL
3 medium garlic cloves, peeled
1 medium chipotle chili pepper (packed in adobo sauce)
3 Tbsp fresh lemon juice 45 mL
1/2 tsp ground cumin 2 mL
1/2 tsp salt 2 mL
1/4 cup chopped cilantro, divided 60 mL
1/3 cup water 75 mL
Instructions
1. In food processor, combine chickpeas, 3 hard-boiled eggs, canola oil, garlic, pepper, lemon juice, cumin, salt and all but 1 Tbsp (15 mL) cilantro. Purée until smooth, adding up to 1/3 cup (75 mL) water for desired consistency.
2. In shallow serving bowl, add hummus. Slice remaining egg into wedges and garnish with remaining 1 Tbsp (15 mL) cilantro.
Yield
2 1/2 cups (625 mL)
serving size
3 Tbsp (45 mL)
nutritional analysis
Per Serving
Calories
70
Total Fat
4.5 g
Saturated Fat
0.5 g
Cholesterol
50 mg
Carbohydrates
5 g
Fiber
1 g
Sugars
1 g
Protein
3 g
Sodium
60 mg
Potassium
44 mg