Saskatoon Berry Pie
If you are from the Canadian Prairies you will be familiar with Saskatoons - sweet, purple berries. As a child my family would head out with pails to our secret patch of wild Saskatoons and return with purple tongues and lips and pails of berries. Although they are wonderful picked right from the bush, my absolute favourite dessert is my Mom's Saskatoon pie.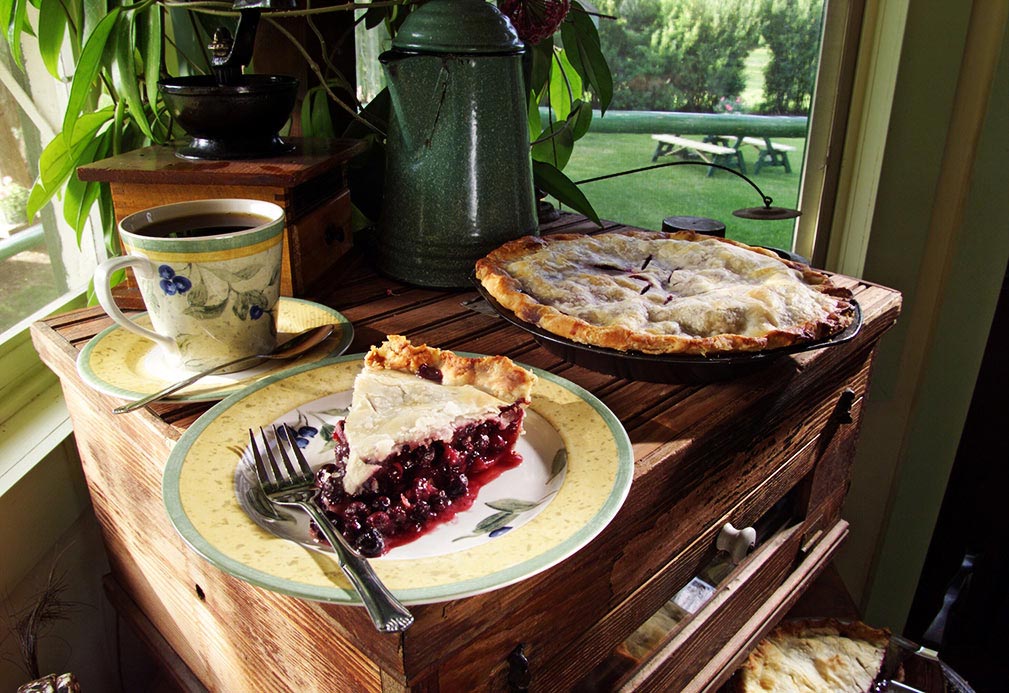 Ingredients
3 to 4 cups saskatoons 750 mL to 1 L
1 Tbsp lemon juice 15 mL
2/3 cup granulated sugar 150 mL
1/4 cup tapioca or flour 60 mL
Canola Oil Pie Crust
1 1/2 cups 375 mL
1 1/2 tsp granulated sugar 7 mL
1/2 tsp salt 2 mL
2 Tbsp cold 1% milk 30 mL
1/2 cup canola oil 125 mL
Optional Topping
1/2 cup all purpose flour 125 mL
1/2 cup granulated sugar 125 mL
3 Tbsp canola margarine 45 mL
Instructions
1. Combine Saskatoons, lemon juice, sugar and tapioca in a large bowl. Arrange Saskatoon mixture in unbaked pie shell. Cover with top crust. Bake for 15 minutes at 425°F (220°C), then reduce heat to 350 °F (180 °C) and bake for 35 minutes.
2. To make pie crust: Sift together flour, sugar and salt. In a small bowl, beat milk into canola oil with fork until frothy. Form a well in flour mixture. Add canola oil mixture and combine gently with a fork until crumbly. Pat in pie plate as you would for graham wafer crust. Add filling and bake according to filling recipe.
Optional Topping: Combine flour, sugar and canola margarine. Crumble together until mixture is the size of bread crumbs.
Yield
2 shells (9 inches) or 1 pie shell (9 inches) and top (8 slices per shell) and enough filling for one pie
serving size
1 slice
nutritional analysis
Per Serving
| | |
| --- | --- |
| Calories | 163 |