Ricotta Corn Fritters with Tomatillo Pepper Sauce
These fritters are creamy on the inside, crunchy on the outside and packed with flavor. Canola oil's high heat tolerance makes it the perfect choice for deep-frying.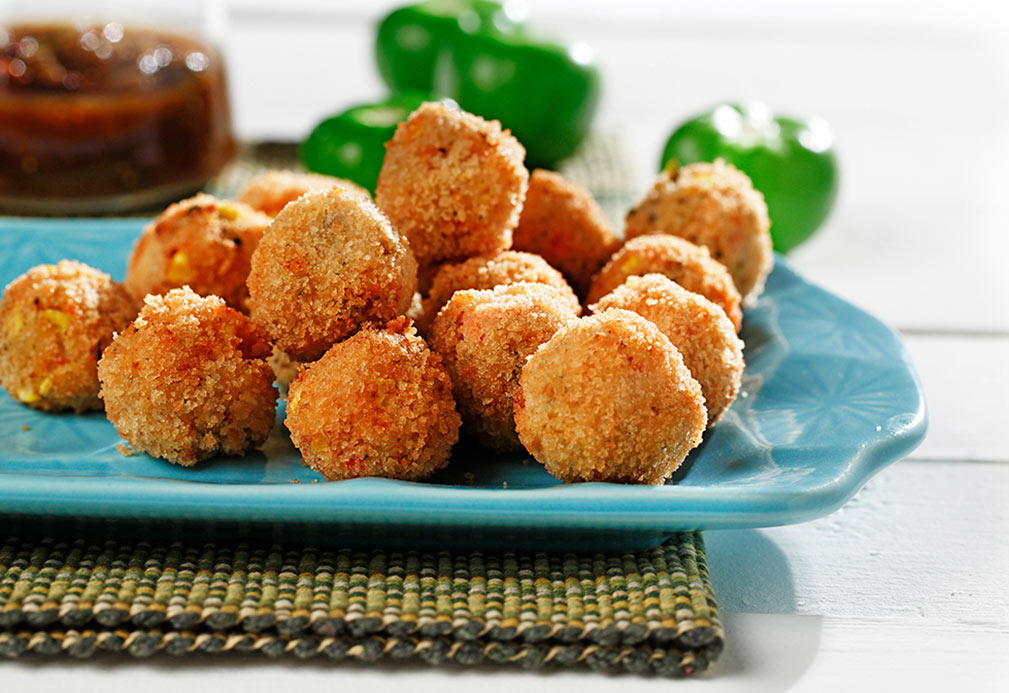 Ingredients
Fritters
1 cup ricotta or requeson cheese 250 mL
1 1/4 cup finely ground totopos* or bread crumbs 310 mL, divided
1 egg
1/2 cup Parmesan cheese 125 mL
1/2 cup chopped tomato confit 125 mL
1/2 cup cooked or canned corn 125 mL
1 tbsp finely chopped epazote or oregano 15 mL
1/4 tsp salt 1 mL
1/4 tsp ground black pepper 1 mL
Tomatillo-Pepper Sauce
1 cup chopped tomatillos 250 mL
1 dried chipotle chile, chopped
1/4 onion, diced
1 clove garlic, diced
1 hoja santa leaf or 1 tsp oregano 5 mL
1/4 tsp salt 1 mL
1 1/2 cups canola oil for frying 375 mL
Instructions
1. In large bowl, combine cheese, 1 cup (250 mL) ground totopos or bread crumbs, egg, Parmesan cheese, tomato confit, corn, epazote or oregano, salt and pepper. Form mixture into 1-inch (2.5-cm) balls (about 26). Roll balls in 1/4 cup (60 mL) ground totopos or bread crumbs. Refrigerate while preparing sauce.
2. To make Tomatillo-Pepper Sauce: In saucepan, boil tomatillos, chiles, onion, garlic, hoja santa or oregano and 1 cup (250 mL) water over medium-high heat. Simmer until tomatillos soften and liquid is reduced by half, about 15 to 20 minutes. Season with salt.
3. Heat canola oil in deep skillet over medium-high heat. Working in batches, add balls to canola oil. Cook until golden brown, about 1 minute. Using tongs, turn over and cook until other side is golden brown, about 1 more minute. Once cooked, transfer to paper towel to drain.
4. Serve fritters with sauce.
Cook's Tip: Make your own totopos crumbs by toasting corn tortillas in a 400 °F (200 °C) oven 8 to 10 minutes. Turn over tortillas half way during cooking. Grind in food processor until fine.
Yield
26 fritters
serving size
2 fritters
nutritional analysis
Per Serving
| | |
| --- | --- |
| Calories | 165 |