Spicy Spaghetti with Arugula, Peas and Tomatoes
Take things up a notch with this spicy twist on an Italian classic. Canola oil helps carry the flavors through the dish.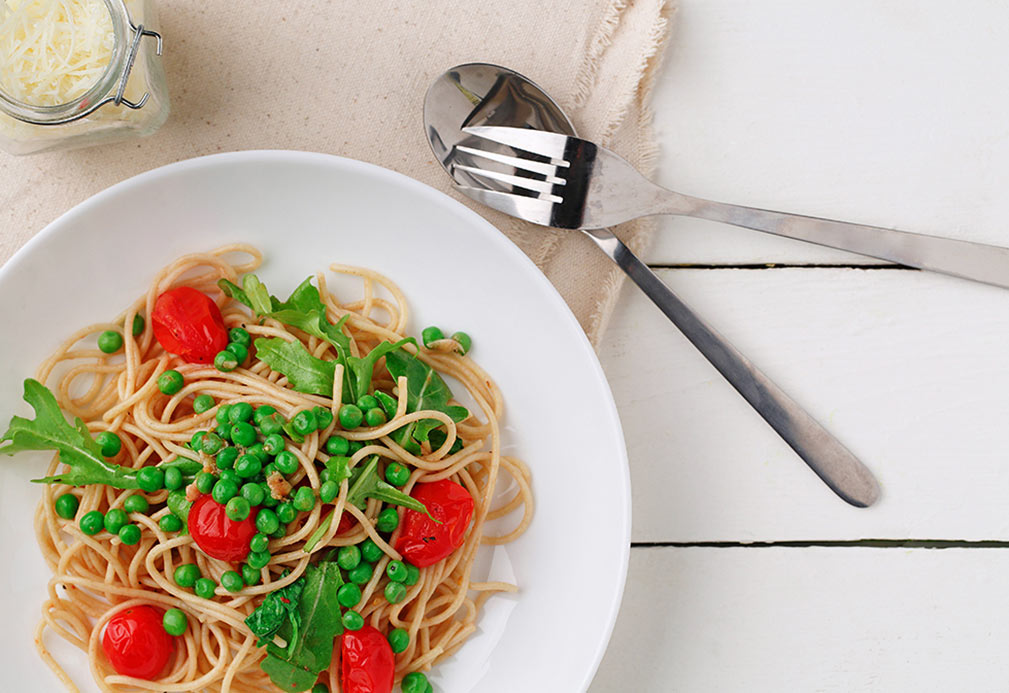 Ingredients
1/2 lb whole-grain spaghetti 250 g
1 bay leaf
1/4 white or yellow onion, chopped
5 whole allspice berries
3 whole black peppercorns
1 Tbsp canola oil 15 mL
2 garlic cloves, minced
3 cups cherry tomatoes 750 mL
1 cup frozen peas 250 mL
2 cups baby arugula 500 mL
1/2 tsp salt 2 mL
1/2 tsp black ground pepper 2 mL
Instructions
1. Cook spaghetti according to package instructions with bay leaf, onion, allspice berries and peppercorns. Once cooked, drain and set aside. Remove bay leaf and whole spices.
2. Meanwhile, in large skillet, heat canola oil and sauté garlic and tomatoes. Gently press tomatoes as they cook to release their liquids. Add peas and continue cooking for 2 minutes, stirring occasionally. Add arugula and cook until wilted.
3. Add vegetables to spaghetti. Season with salt and pepper. Serve.
Yield
4 servings
serving size
1 cup (250 mL)
nutritional analysis
Per Serving
| | |
| --- | --- |
| Calories | 270 |