Pork Stir Fry
Making a stir fry is a fun and exciting culinary experience with a certain exotic flare. Here, I use a combination of asparagus, onions and bell peppers to add crunch and nutritional value to the dish, and recommend pork tenderloin to satisfy the meat eaters. For a proper stir fry, you need three things: a wok, great flavor and high heat. Canola oil has a high smoke point and neutral flavor so the rest of the ingredients can really shine. Best way to serve a stir fry? Try pairing it with whole grains, like brown rice or quinoa.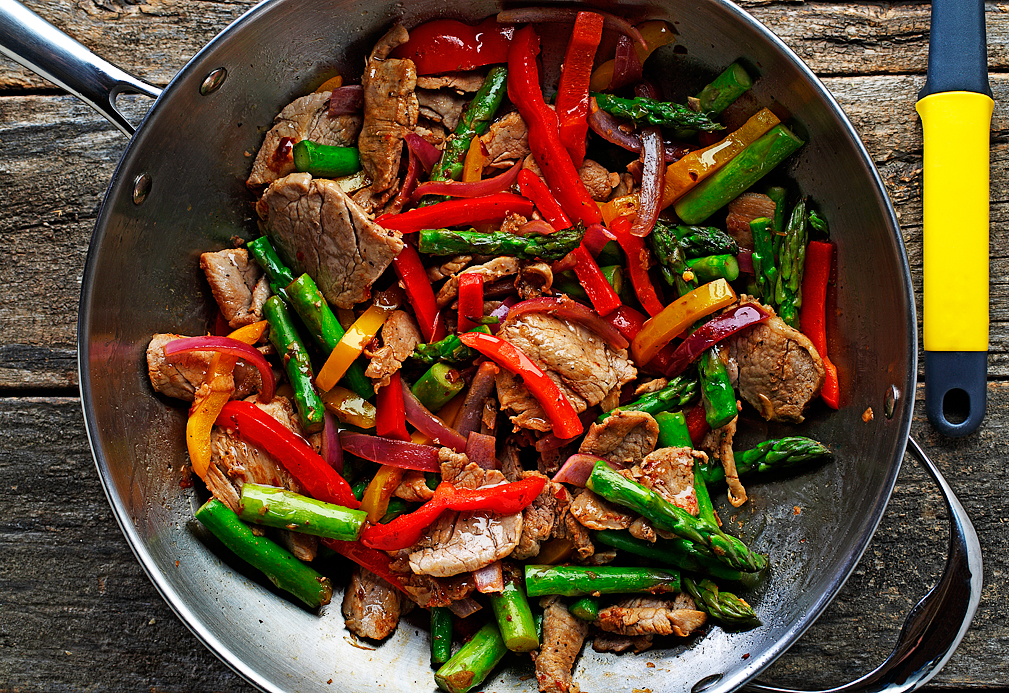 Ingredients
2 Tbsp canola oil, divided 30 mL
1 lb pork tenderloin, thinly sliced 500 g
1 tsp salt 5 mL
1/2 tsp ground black pepper 2 mL
1/2 medium red onion, cut into strips
2 medium sized bell peppers, cut into strips
1 bunch asparagus, cut into thirds
1 Tbsp aji paste or other chili paste 15 mL
1 Tbsp garlic, minced 15 mL
1 Tbsp balsamic vinegar 15 mL
Instructions
1. Heat a large wok at medium high heat. Add 1 Tbsp (15 mL) of canola oil and let it heat up for one minute. Add pork, salt and pepper. Cook for 2-3 minutes. Remove pork from wok and set aside.
2. With same wok, add the remaining 1 Tbsp (15 mL) canola oil and heat for 1 minute. Add onion, peppers, and asparagus. Cook for 2 minutes.
3. Add chili, vinegar, and garlic. Stir around for 3 minutes.
4. Add pork back into the wok and cook for 1 minute. Remove from the heat.
Yield
4
serving size
1 1/4 cups (310 mL)
nutritional analysis
Calories
240
Total Fat
10 g
Saturated Fat
1.5 g
Cholesterol
75 mg
Carbohydrates
11 g
Fiber
4 g
Sugars
6 g
Protein
27 g
Sodium
860 mg
Potassium
859 mg