Potato & Chicken Sausage Frittata
Frittatas are a great meal option because they can be served for breakfast, lunch, or dinner. Using hearty ingredients, like potatoes and artichokes, add a boost of flavor and extra nutrition. Canola oil's high heat tolerance allows me to go seamlessly from the stove top to the oven.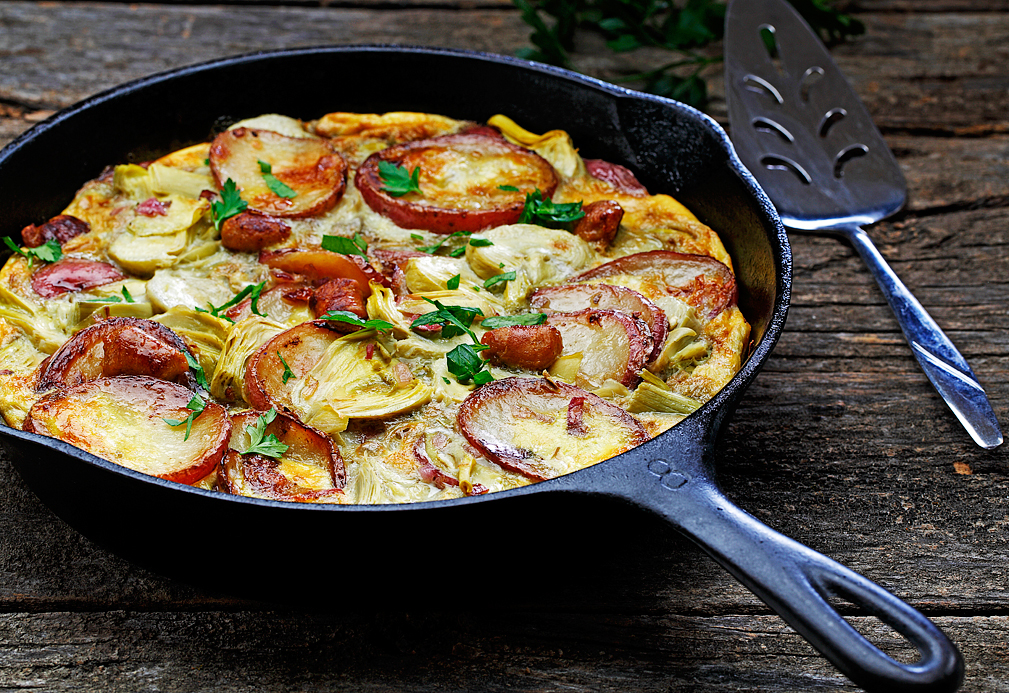 Ingredients
2 Tbsp canola oil 30 mL
1 lb red potatoes, peeled and sliced into ¼ inch (0.6 cm) slices 500g
1/2 medium red onion, diced
2 chicken sausage links, sliced into ½ inch (1 cm) slices (about 6 oz/170 g)
1 can (14 oz/396 g) artichoke hearts in water, drained and sliced into strips
8 eggs
1/4 cup parsley, chopped 60 mL
Instructions
1. Preheat oven to 350 F (180 C).
2. Heat a medium sized, oven-proof skillet on medium-high heat for about 3 minutes. Add canola oil and warm up for another minute. Place potatoes in the skillet, cover and reduce to medium heat. Cook for 5 minutes, occasionally stirring around.
3. Add onions. Stir and cover for another minute. Add chicken sausage. Stir and cover for another minute. Add artichoke hearts. Stir and cover for another minute.
4. In a medium sized bowl, whisk eggs. Pour egg mixture over potatoes and make sure to distribute evenly. Cover and cook for 6 minutes on medium heat.
5. Remove cover and add parsley. Place in oven and cook for 8 minutes.
6. Remove from oven and slice into 6 even slices. Serve immediately.
Yield
6
serving size
1 slice
nutritional analysis
Calories
270
Total Fat
13 g
Saturated Fat
3 g
Cholesterol
270 mg
Carbohydrates
21 g
Fiber
3 g
Sugars
2 g
Protein
17 g
Sodium
670 mg
Potassium
463 mg