Garden Pasta Salad
This dressing could also be used on coleslaw or potato salad.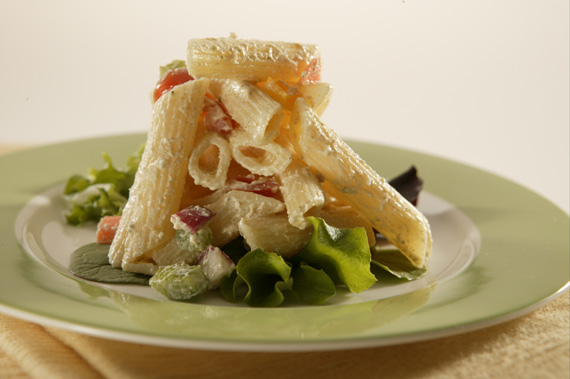 Ingredients
1 lb penne pasta noodles 500g
1/2 tsp salt 2 mL
1/4 cup finely chopped onion 60 mL
3-4 radishes, chopped 3-4
1 cup chopped celery 250 mL
1 cup chopped carrot 250 mL
Dressing
1/2 cup canola mayonnaise 125 mL
1/2 cup sour cream 125 mL
1/2 tsp ground black pepper 2 mL
1 tsp prepared or dry mustard 5 mL
1 tsp granulated sugar 5 mL
1 tsp lemon juice 5 mL
3 Tbsp milk 45 mL
Instructions
1. In a large saucepan, combine penne pasta noodles in lightly salted water, bring to a boil and cook until tender but not firm. Drain. Rinse under cold water. Drain well. Put noodles into a large serving bowl and allow to cool.
2. Add onion, radish, celery and carrots to noodles. Toss.
3. In small bowl mix together mayonnaise, sour cream, pepper, mustard, granulated sugar, lemon juice and milk. Add dressing to noodles; toss well.
Yield
10 to 12 servings.
serving size
nutritional analysis
Per Serving
| | |
| --- | --- |
| Calories | 220 |