Arrabiata Pasta Sauce
Arrabiata means "angry style" in Italian and it's named as such due to the heat of the peppers. This simple, spicy sauce goes well with plain penne pasta.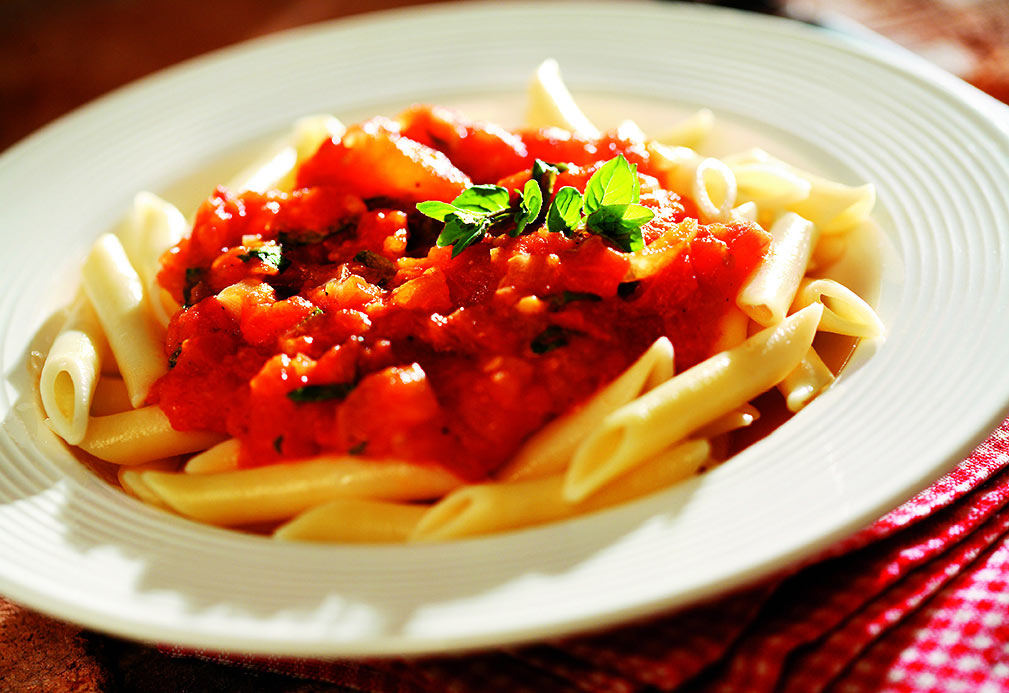 Ingredients
3 Tbsp canola oil 45 mL
1 onion, diced
1 garlic, minced
1 tsp red chili flakes 5 mL
8 cups Roma tomatoes, seeded, chopped 2L
1 tsp salt 5 mL
1/4 tsp granulated sugar 1 mL
3 Tbsp fresh oregano, chopped 45 mL
3 Tbsp fresh basil, chopped 45 mL
pepper to taste
Instructions
1. Heat canola oil in a saucepan over medium high heat. Saute onions in canola oil until softened. Add garlic and red pepper flakes. Add tomatoes and simmer with lid on for 20 minutes.
2. Remove lid, stir and simmer for 15 minutes. Add salt, sugar, oregano and basil. Stir to combine. Season with pepper to taste and serve.
Tip: If you are in a hurry substitute fresh tomatoes with two 28 ounce/796 mL cans of low sodium diced tomatoes.
Yield
4 cups (1 L)
serving size
1/2 cup (125 mL)
nutritional analysis
Per Serving
Calories
45
Total Fat
3 g
Saturated Fat
0 g
Cholesterol
0 mg
Carbohydrates
5 g
Fiber
1 g
Sugars
3 g
Protein
1 g
Sodium
5 mg
Potassium
283 mg