Sautéed Scallops with Peas in Lemon Tarragon Sauce
For this classic French sauté, plump scallops are seared in hot oil, then the pan is deglazed with liquid to release the brown bits clinging to it.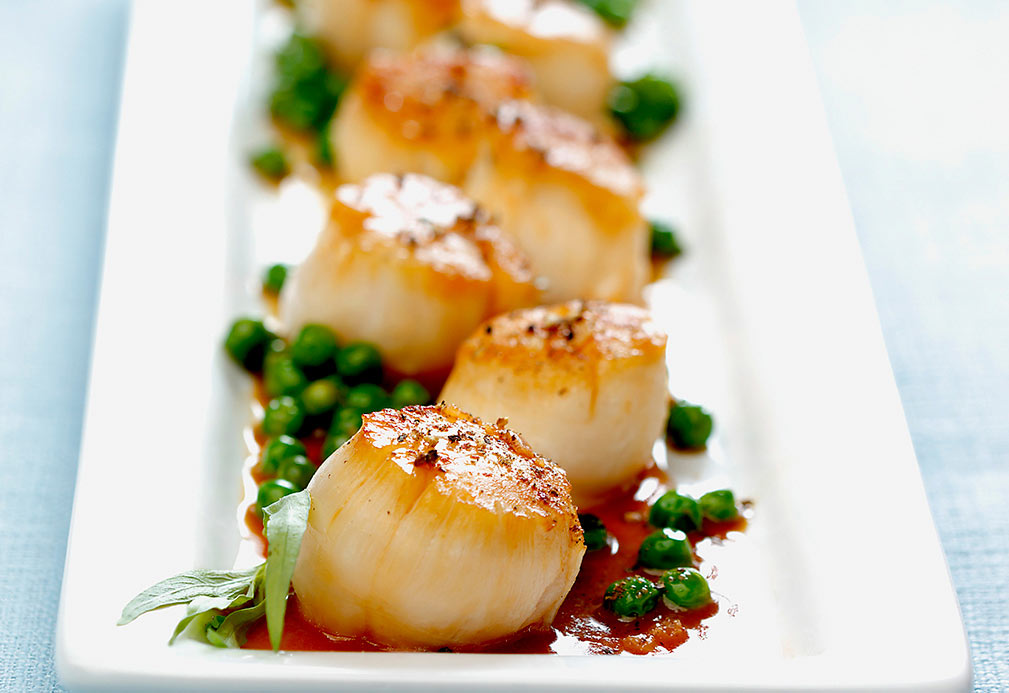 Ingredients
12 sea scallops (about 14 oz)
2 Tbsp canola oil 30 mL
1 small shallot, minced
1 cup top-quality, low-sodium chicken or vegetable broth 250 mL
1 lb fresh peas, shelled, or 1 cup frozen peas (thawed) 500 g
2 Tbsp freshly squeezed lemon juice, preferably Meyer lemon 30 mL
1 Tbsp chopped fresh tarragon 15 mL
1/4 tsp freshly ground pepper 1 mL
Instructions
1. Rinse scallops, then pat dry with paper towels. Pull off the opaque muscle or
"foot" on the side of each scallop (if it is there).
2. In a 10-inch sauté pan, warm canola oil over medium-high heat. Add scallops and sear until golden brown on each side, turning once, about 3 minutes total. Transfer scallops to a plate and set aside. Add shallots to pan and sauté until golden, about 30 seconds. Pour in broth and let liquid come to a boil; stir in fresh peas, if using. Cover pan and simmer until peas are just tender, about 3 minutes. Stir in lemon juice and tarragon. Return scallops to pan, (if using thawed frozen peas, add them now), cover and cook until scallops are cooked through, about 2 minutes. Serve immediately, spooning peas and sauce over and around scallops. Season to taste with pepper. Serve with a brown rice-wild rice blend if desired.
Yield
4 servings
serving size
nutritional analysis
Per Serving
Calories
210
Total Fat
8 g
Saturated Fat
0.5 g
Cholesterol
15 mg
Carbohydrates
21 g
Fiber
6 g
Protein
15 g
Sodium
95 mg