Porcini Mushroom Gravy
While it sounds luxuriously rich, this gravy is light on calories and fat so you can enjoy all of the flavor with none of the guilt.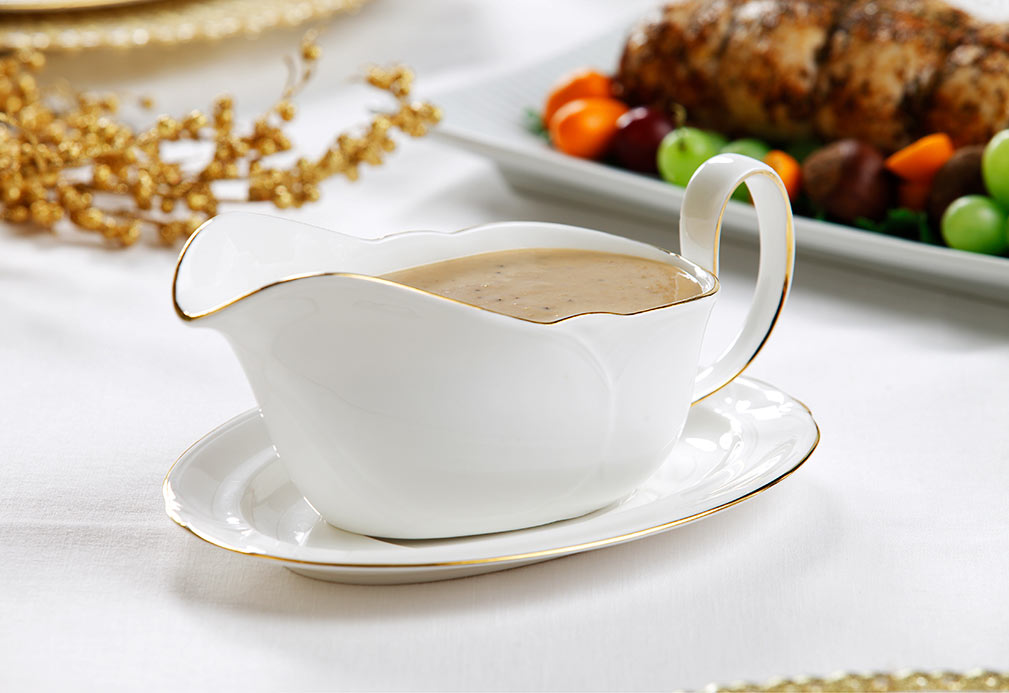 Ingredients
1/2 oz dried porcini mushrooms 15 g
2 Tbsp warm water 30 mL
1 1/2 Tbsp canola oil 20 mL
6 Tbsp white whole-wheat flour 90 mL
2 cups fat-free, low-sodium chicken broth 500 mL
3/4 tsp salt (optional) 4 mL
1 tsp onion powder 5 mL
1/4 tsp freshly ground black pepper or to taste 1 mL
Instructions
1. Soak mushrooms in warm water for 5 minutes.  
2. In 1-quart (1.1 L) saucepan, heat canola oil over medium heat. Whisk in flour until blended and continue stirring until roux is lightly browned and develops nutty aroma.
3. Whisk in broth, optional salt and onion powder. Bring to a gentle boil until just thickened, stirring. Cook and stir for 1 minute. Remove from heat and season with pepper. Add softened mushrooms and any soaking liquid.
4. Purée gravy in food processor or food mill. Return mixture to saucepan. Heat just to a simmer.
Yield
2 cups (500 mL)
serving size
1/4 cup (60 mL)
nutritional analysis
Per Serving
Calories
45
Total Fat
2 g
Saturated Fat
0 g
Cholesterol
0 mg
Carbohydrates
4 g
Fiber
1 g
Sugars
0 g
Protein
1 g
Sodium
190 mg
Potassium
19 mg