Caesar Style Salad With Whole Wheat Croutons
The whole wheat croutons that top this popular salad are a healthier alternative to your regular croutons.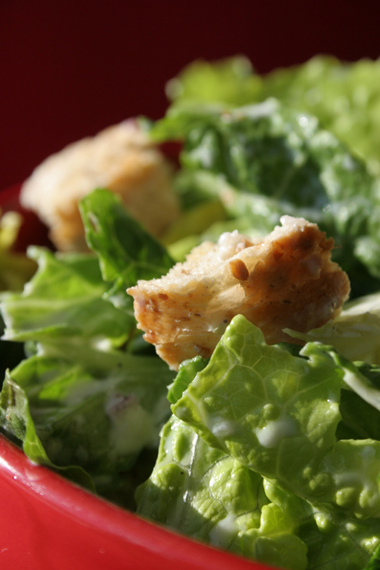 Ingredients
3 slices whole wheat bread, cut into 1/2 inch cubes
Dressing
1/2 cup nonfat buttermilk 125 mL
1 Tbsp canola mayonnaise 15 mL
2 Tbsp fat free sour cream 30 mL
2 tsp Dijon mustard 10 mL
1-2 cloves garlic, minced
3/4 tsp dried oregano leaves 4 mL
1/4 tsp salt 1 mL
1/8 tsp black pepper .5 mL
Salad
6 cups torn romaine lettuce (6 oz/170g total) 1.5L
1/4 cup thinly sliced red onion 60 mL
2 Tbsp grated Parmesan cheese 30 mL
Instructions
1. Preheat oven to 350 °F (180 °C).
2. Place the bread cubes on a cookie sheet in a single layer and bake 11-12 minutes or until browned. Remove from oven and set aside to cool completely until hard (about 8-10 minutes).
3. Meanwhile, combine the dressing ingredients in a small bowl and whisk until smooth
4. At time of serving place the lettuce and onion in a large bowl. Pour in the dressing and toss until coated thoroughly. Add croutons and Parmesan; toss gently yet thoroughly. Serve.
Yield
4 servings.
serving size
nutritional analysis
Per Serving
| | |
| --- | --- |
| Calories | 130 |