Fiesta Rice
With its nutrient-packed wild rice, bell peppers, walnuts, and raisins, this dish offers a range of health benefits and a rainbow of colors. The visual appeal and Latin tastes of will impress your friends and family when served at your next holiday fiesta.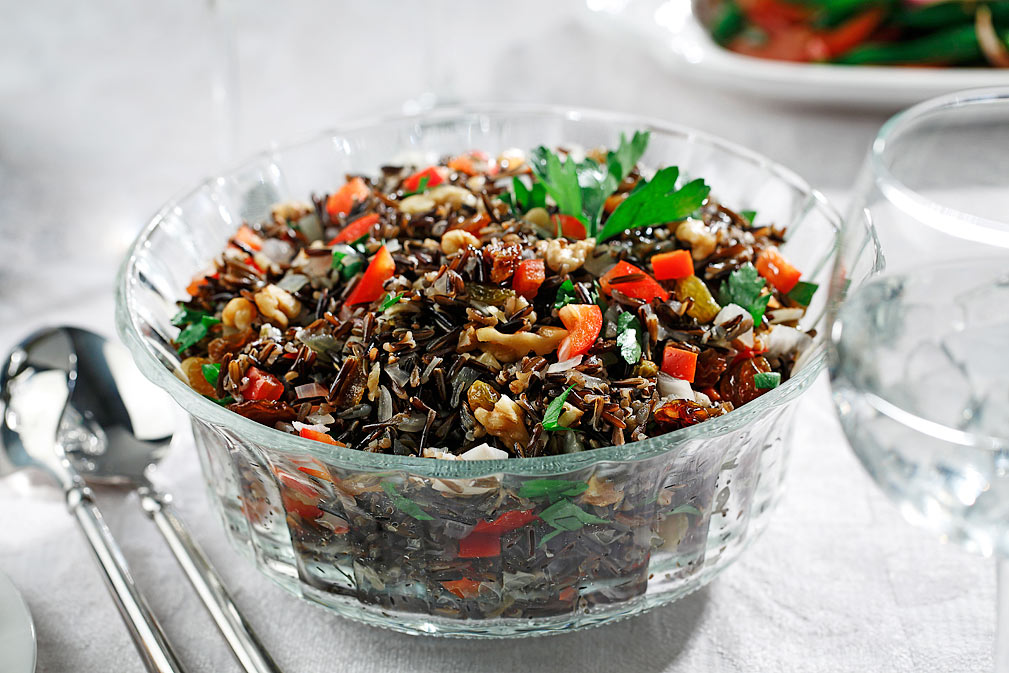 Ingredients
8 cups low sodium chicken or vegetable broth 2 L
2 cups wild rice 500 mL
1 tsp salt 5 mL
2 Tbsp canola oil 30 mL
1 medium white onion, chopped
1 cup diced red bell peppers 250 mL
1/2 cup chopped walnuts 125 mL
1/2 cup golden raisins 125 mL
1/4 cup finely diced parsley 60 mL
Instructions
1. In large saucepan, bring chicken or vegetable broth to a boil, then stir in wild rice and salt. Reduce heat and simmer, covered, 40-45 minutes or just until kernels puff open. Uncover and fluff with fork and simmer additional 5 minutes. Drain any excess liquid.
2. In large serving bowl, place cooked rice and set aside to cool.
3. In large sauté pan, heat canola oil over medium heat. Add onion and sauté for 1 to 2 minutes or until translucent.
4. Add peppers, walnuts and raisins. Cook until lightly browned and fragrant.
5. Add sautéed mixture and fresh parsley to wild rice. Stir to combine and serve warm.
Yield
16 servings
serving size
1/2 cup (125 mL)
nutritional analysis
Per Serving
Calories
120
Total Fat
5 g
Saturated Fat
0 g
Cholesterol
0 mg
Carbohydrates
17 g
Fiber
2 g
Sugars
6 g
Protein
3 g
Sodium
180 mg
Potassium
165 mg