Barley With Caramelized Vegetables
This recipe is a delicious and easy way to incorporate vegetables into dinner. Canola oil is used to sauté and toast the barley to bring out its great flavor.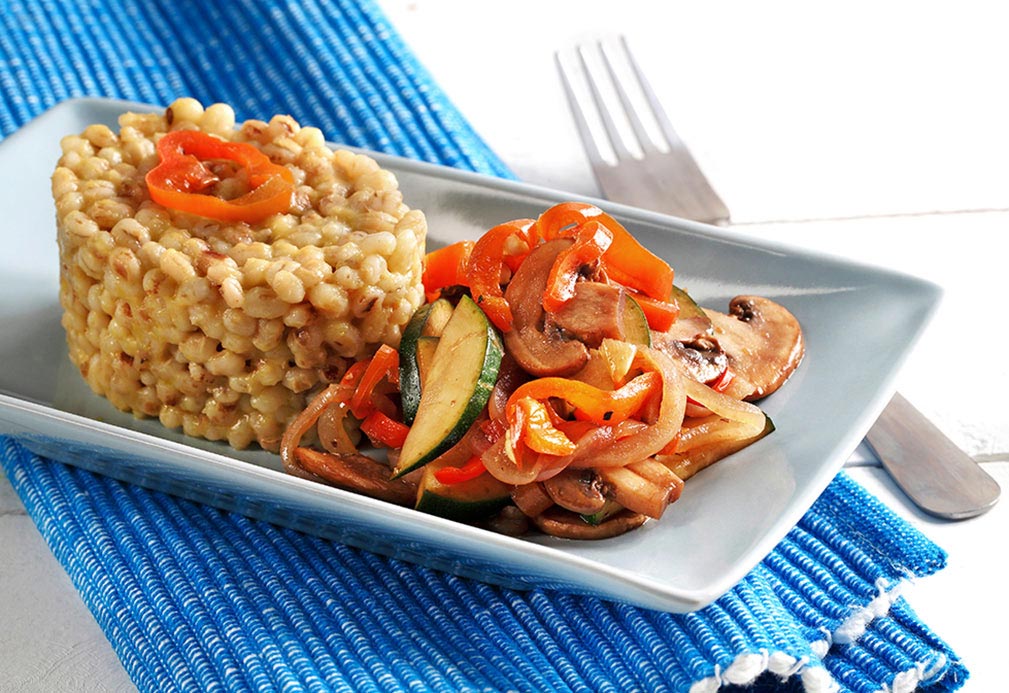 Ingredients
2 Tbsp canola oil, divided 30 mL
3/4 cup pearl barley 175 mL
4 cups low-sodium vegetable broth 1 L
1 medium onion, thinly sliced
1 red pepper, thinly sliced
1 package (8 oz/250 g) sliced mushrooms
1 large clove garlic, finely chopped
1 zucchini, halved lengthwise, and cut into thin strips
3 Tbsp balsamic vinegar 45 mL
1 Tbsp brown sugar 15 mL
1/4 tsp pepper 1 mL
Instructions
1. In saucepan, heat 1 Tbsp canola oil over medium-high heat. Add barley and toast 3 to 4 minutes.
2. Add broth to barley. Bring to boil, then reduce heat and simmer, uncovered, until barley is tender, about 40-45 minutes. Drain off excess broth. Cover to keep barley warm.
3. Meanwhile, in large frying pan, heat remaining 1 Tbsp canola oil. Add onion and sauté about 5 minutes, stirring frequently. Add red pepper, mushrooms and garlic and sauté 3 to 4 minutes.
4. Add zucchini, balsamic vinegar and brown sugar and continue to cook about 4 to 5 minutes longer. Season with pepper. Serve over barley.
Yield
8 servings
serving size
1/2 cup (125 mL)
nutritional analysis
Per Serving
Calories
90
Total Fat
3.5 g
Saturated Fat
0 g
Cholesterol
0 mg
Carbohydrates
12 g
Fiber
2 g
Sugars
5 g
Protein
2 g
Sodium
150 mg
Potassium
158 mg