Baked Empanadas with Beef Filling
Try baked empanadas as an alternative to the traditional deep-fried version.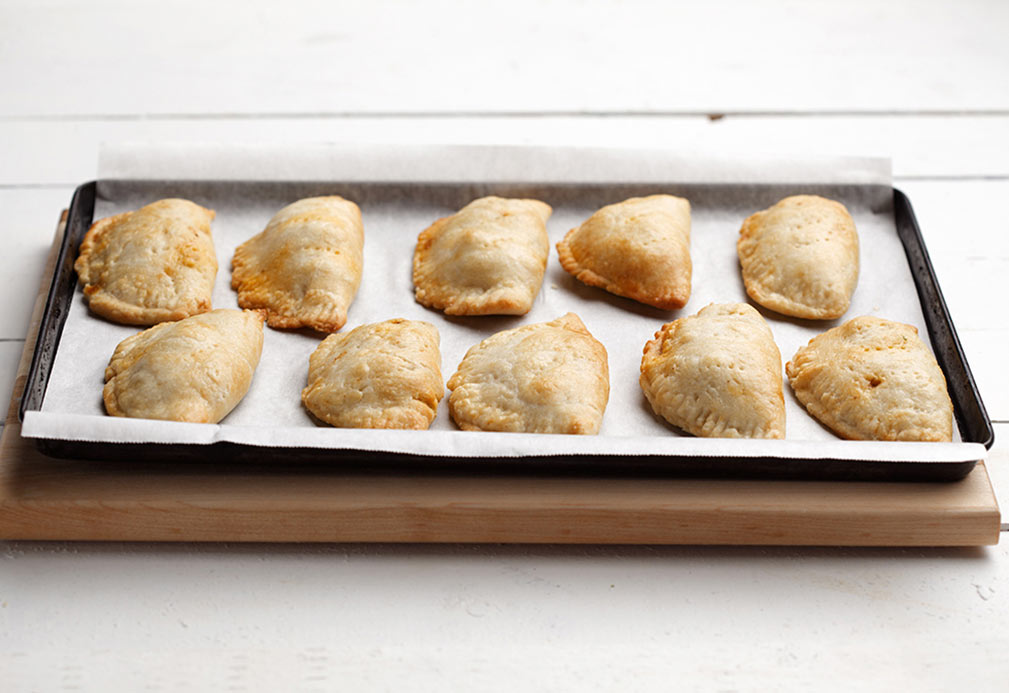 Ingredients
Dough
4 cups all-purpose flour 1 L
2 tsp baking powder 10 mL
1 tsp salt 5 mL
1 cup canola oil 250 mL
1 cup warm water or milk 250 mL
Filling
3 Tbsp canola oil 45 mL
1 onion, chopped
2 clove garlic, minced
1 lb lean ground beef 500 g
1/4 tsp pepper 1 mL
1/2 tsp salt 2 mL
1 tsp cumin 5 mL
1 tsp oregano 5 mL
2 Tbsp tomato paste 30 mL
1/4 cup currants 60 mL
1/4 cup chopped black olives 60 mL
1 cup beef broth 250 mL
2 hard boiled eggs, chopped
2 small cooked potatoes, diced into 1 inch cubes
Instructions
1. Place flour, baking powder and salt in food processor; process for 5 seconds. With machine running, add canola oil and then warm water through feed tube; process until dough almost gathers into ball. (Add additional water if necessary). Transfer to floured surface; knead for few seconds. Cover with plastic wrap; let stand for 30 minutes.
2. Form dough into 9 inch log; cut into 12 portions about 3/4-inch each. On lightly floured surface, roll portion with rolling pin to 1/4 inch thick. Cut dough into 4-inch dough circles using wide mouth glass, jar or can. (You may get 4 extra circles by rolling out leftover dough).
3. Unbaked empanada circles may be frozen. Stack circles between wax paper and place in resealable, freezer plastic bag. Thaw to use.
4. In saucepan over medium-high heat, add canola oil. Saute onions and garlic until softened. Add ground beef and brown until completely cooked through. Combine pepper, salt, cumin, oregano, tomato paste, currants and black olives with beef mixture.
5. Add beef broth. Simmer mixture, uncovered, on medium heat for 20-25 minutes until liquid is almost evaporated.
6. Add potatoes and fold in eggs. Adjust seasonings.
7. To fill empanadas, lightly brush edge of half circle with egg white mixture of 1 egg white and 1 Tbsp (15 mL) water. Place about 1 heaping Tbsp of beef filling in center. Fold half of circle over to form half-moon and press edges together firmly. Gently press fork into dough to form ridges if desired. Place on lightly greased baking sheet. Brush tops with egg white mixture. Pierce tops once with fork. Bake at 350 °F (180 °C) for about 20 minutes or until lightly browned. Remove from oven; let cool for 5 minutes before serving.
Yield
32 empanadas
serving size
1 empanadas
nutritional analysis
Per Serving
Calories
170
Total Fat
10 g
Saturated Fat
1.5 g
Cholesterol
20 mg
Carbohydrates
15 g
Fiber
<1 g
Protein
5 g
Sodium
190 mg