Spiced Lamb Strips with Mint and Cilantro
Combining savory lamb with cumin, coriander, mint, garlic and tomatoes, this recipe combines the best of traditional North American and Middle Eastern lamb preparations. It is a great way to use up lamb left over from Easter.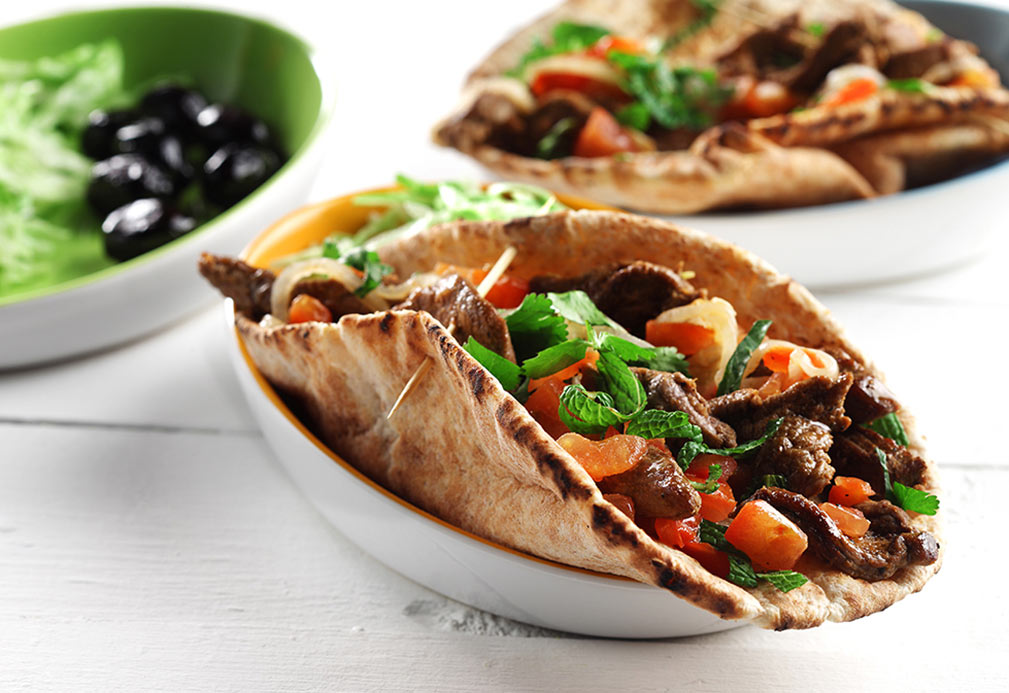 Ingredients
1 lb lamb leg, boned, trimmed and cut into thin strips 500 g
1 tsp cumin 5 mL
1 tsp coriander 5 mL
1 tsp paprika 5 mL
1/4 tsp pepper 1 mL
1 Tbsp plus 1 tsp canola oil 20 mL plus 5 mL
1 small onion, thinly sliced
2 cloves garlic, minced
4 Roma tomatoes, seeded and cubed
1 Tbsp chopped fresh mint 15 mL
1 Tbsp chopped fresh cilantro 15 mL
4 whole wheat pitas, warmed
2 cups shredded lettuce 500 mL
8 black olives, chopped
Instructions
1. In medium bowl, add lamb strips. Mix with cumin, coriander, paprika and pepper.
2. In large non-stick skillet, heat 1 Tbsp (15 mL) canola oil over medium high heat. Working in batches, sauté lamb strips 4 - 5 minutes or until cooked through. Remove from pan and set aside. Add 1 tsp (5 mL) canola oil to pan and sauté onion for 3-4 minutes or until onion is cooked. Add garlic, tomatoes and cook 2 to 3 minutes longer. Add lamb back to pan.
3. Add mint and cilantro and toss with meat and vegetables. Divide mixture between four pitas. Garnish with lettuce and black olives.
Yield
4 servings
serving size
nutritional analysis
Per Serving
Calories
310
Total Fat
13 g
Saturated Fat
2.5 g
Cholesterol
75 mg
Carbohydrates
22 g
Fiber
4 g
Protein
27 g
Sodium
280 mg