No Bake Peanut Butter Granola Bars
Perfect for breakfast, dessert or an afternoon snack, these granola bars have a delicious flavor and texture.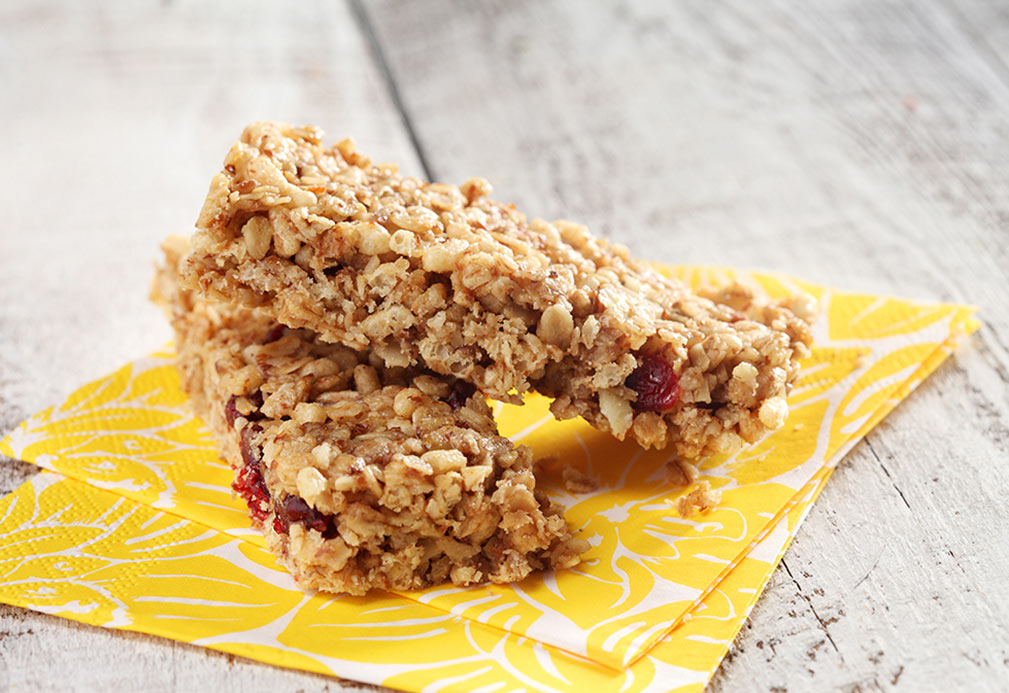 Ingredients
2 cups low-fat granola cereal 500 mL
1 1/4 cups crispy brown rice cereal 300 mL
1 cup uncooked quick-cooking oats 250 mL
2 Tbsp chopped almonds 30 mL
1/4 cup dried cranberries or dried blueberries 60 mL
1/2 cup honey 125 mL
1/2 cup creamy natural peanut butter 125 mL
1 Tbsp canola oil 15 mL
1 tsp vanilla extract 5 mL
Instructions
1. In large bowl, combine granola, rice cereal, oats, almonds and dried berries; set aside.
2. In small saucepan, bring honey, peanut butter, canola oil and vanilla over low heat and heat 5 minutes or until blended.
3. Pour peanut butter mixture over cereal mixture, stirring until coated. Press mixture into lightly greased 9 x 13 inch (22 x 33 cm) pan. Press mixture down tightly with wax paper. Cover and cool completely in pan in refrigerator at least 1 hour before slicing into 16 bars.
Yield
16 servings
serving size
1 bar
nutritional analysis
Per Serving
Calories
160
Total Fat
7 g
Saturated Fat
1 g
Cholesterol
0 mg
Carbohydrates
22 g
Fiber
2 g
Sugars
14 g
Protein
4 g
Sodium
50 mg
Potassium
35 mg