Korean Style Short Ribs
As with many Korean dishes, this traditional marinade features lots of garlic, soy and the ubiquitous use of red chile peppers from dried flakes to a fine powder. With its neutral taste and texture, canola oil props up these fabulous flavors in succulent short ribs.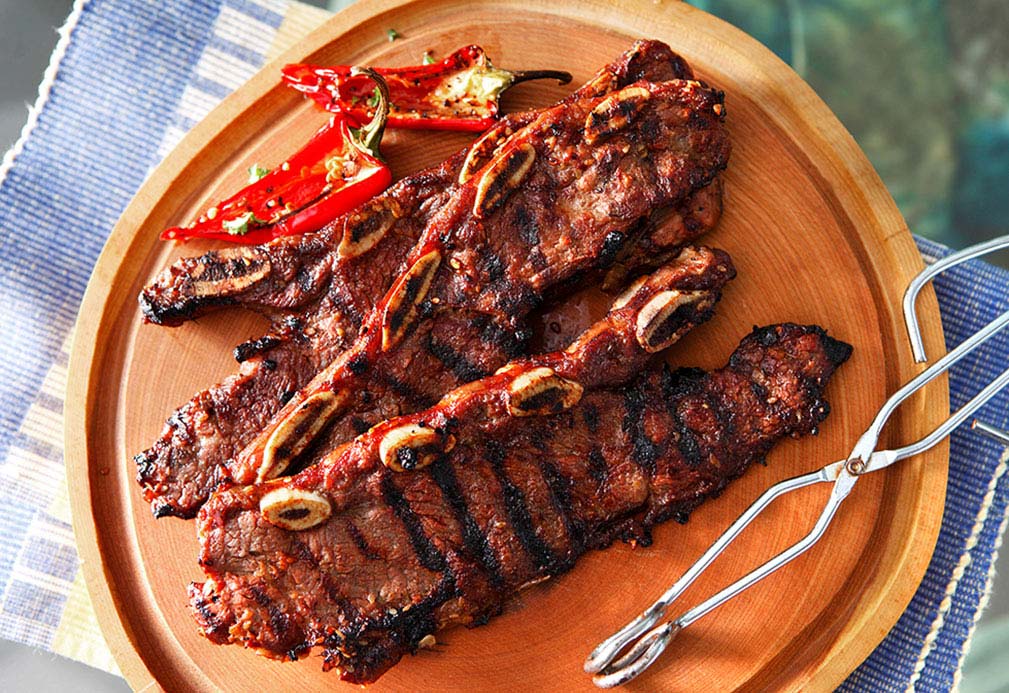 Ingredients
1/3 cup light low sodium soy sauce 75 mL
1/4 cup canola oil 60 mL
2 Tbsp toasted sesame seeds, crushed 30 mL
2 tsp minced ginger 10 mL
6 to 8 cloves garlic, finely minced
1/2 medium onion, finely chopped
3 Tbsp brown sugar 45 mL
1 tsp dried red pepper flakes 5 mL
1 tsp chili powder 5 mL (optional)
3 lb / 1.5 kg short ribs, cut 1/2-inch (1.25-cm) thick across bones
Instructions
1. In non-metallic bowl, place all ingredients, except for short ribs, and stir until sugar has dissolved. 
2. In flat-bottomed container, place short ribs and pour marinade over them. Cover with plastic wrap or place in large, heavy resealable bag and refrigerate 8 to 12 hours, turning ribs occasionally. 
3. Preheat grill to medium-high heat.
4. Remove ribs from marinade, shaking off any excess and discard marinade. Cook on hot grill, 3 to 4 minutes per side or until desired doneness.  
Tip: For proper Kalbi or Korean barbecued short ribs, have the ribs cut across the bones from 1/3- to 1/2-inch (1- to 1.25cm) thickness so that they can grill quickly.
Yield
8 servings
serving size
4 oz (125 g) short ribs
nutritional analysis
Per Serving
Calories
410
Total Fat
32.5 g
Saturated Fat
12 g
Cholesterol
120 mg
Carbohydrates
3 g
Fiber
0 g
Protein
33 g
Sodium
100 mg