Fish Tacos with Avocado Salsa
Since experts recommend eating at least 8 oz of seafood a week for most adults, take a break from the standby beef taco and go fish! See the recipe video below.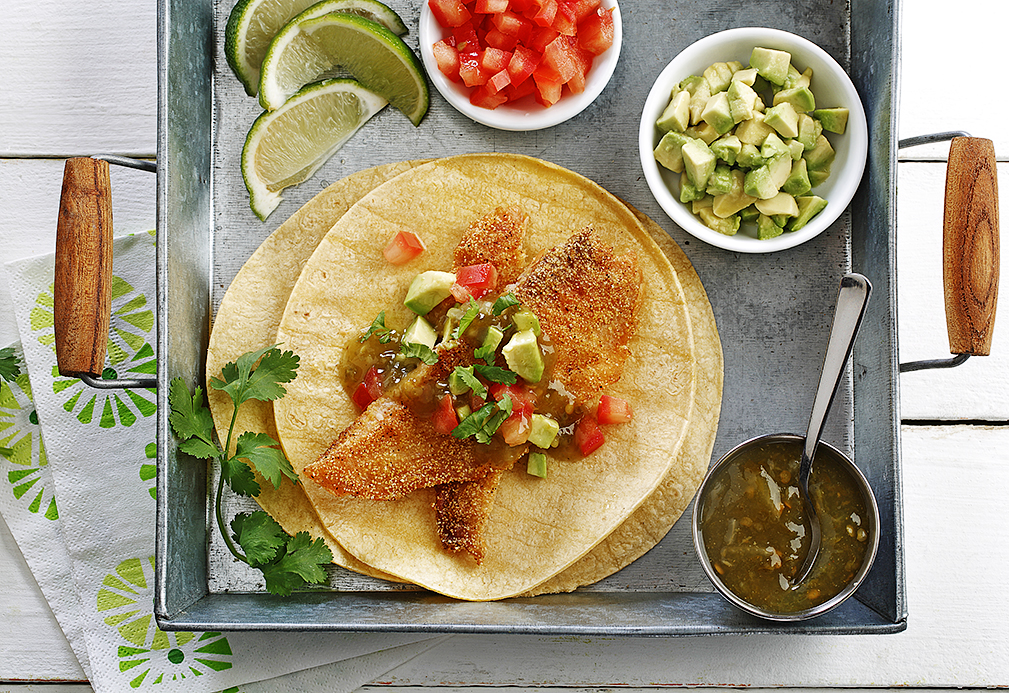 Ingredients
1/4 cup all-purpose flour, spooned into measuring cup and leveled 60 mL
1/4 cup cornmeal 60 mL
1/2 tsp onion powder 2 mL
1/2 tsp chili powder 2 mL
4 fish fillets (1 lb/500 g), such as tilapia, rinsed, patted dry, and cut into 8 strips total 4
2 Tbsp canola oil 30 mL
1/4 tsp salt 1 mL
8 corn tortillas, warmed
1/2 medium avocado, peeled, pitted, and diced
1/2 cup fresh pico de gallo, salsa verde, or picante sauce 125 mL
1 medium lime, cut into 8 wedges
Instructions
1. Combine flour, cornmeal, onion powder, and chili powder in a shallow dish, such as a pie pan. Coat fish with mixture.
2. Heat canola oil in a large nonstick skillet over medium high heat. Add fish; cook 3 minutes on each side or until browned and fish flakes with a fork. Place on a serving platter and sprinkle evenly with salt.
3. Place fish in warmed tortillas, and top with equal amounts of avocado and pico de gallo. Squeeze a lime wedge over each tortilla.
Flavorful tip: Salsa doesn't have to be limited to Mexican fare. It can be used as a spread for sandwiches and topping for simple cuts of meat, poultry, and fish.
Yield
4 servings
serving size
2 tacos
nutritional analysis
Per Serving
Calories
375
Total Fat
14 g
Saturated Fat
2.2 g
Cholesterol
75 mg
Carbohydrates
37 g
Fiber
5 g
Protein
27 g
Sodium
335 mg